1995-96 Topps Stadium Club Basketball Warp Speed Insert Set
Posted: September 8, 2022, 9:09 pm
by admin
This week picking up steam from collectors in the basketball field is none other than one of my favorite sets featured in the 90's. The Topps Stadium Club Warp Speed insert cards. The set is numbered to 15, with the first 6 cards ( #WS1-6 ) of the set coming in series one packs, with a rate of 1:36 packs of retail, and 1:18 for jumbo packs. The rest of the set, #WS7-12 was featured in series 2 at a little bit of a tougher pull at 1:48 packs, and has a completely different design that the series one inserts, making them look like they came out of a different year or set.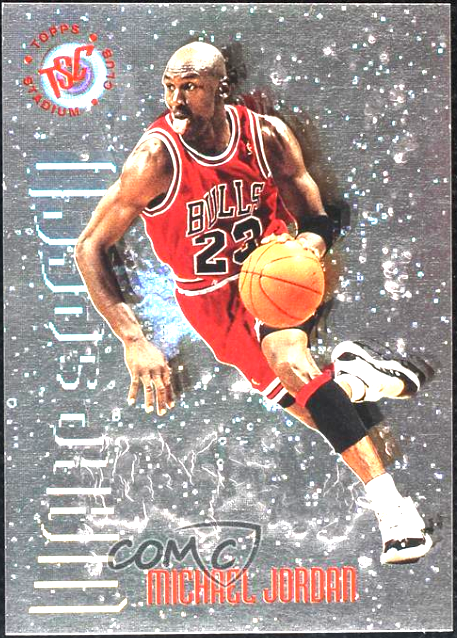 Pictured above is the 1995-96 Topps Stadium Club Warp Speed Michael Jordan #WS1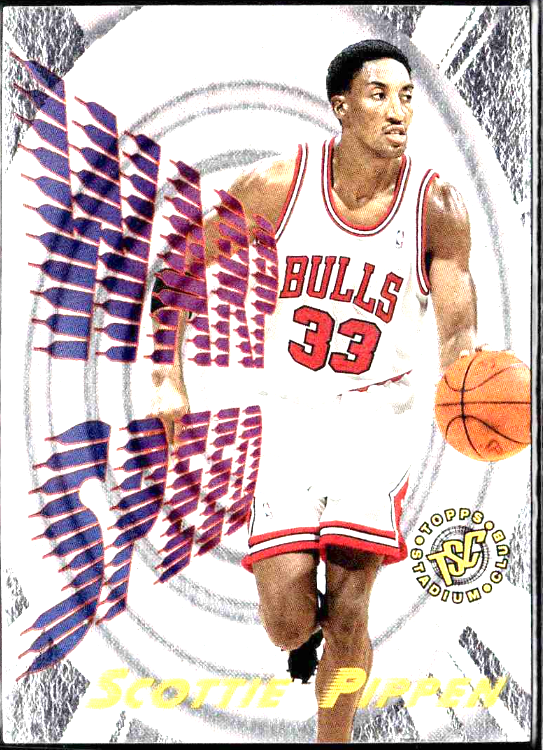 Pictured above is the 1995-96 Topps Stadium Club Warp Speed Scottie Pippen #WS7

As you can tell, the cards look completely different, with the series one versions of the insert set featuring an embossed silver Warp Speed logo, while the series 2 design carries a purple stretched Warp speed logo that attempts to appear as its being sucked in a portal. The backs of cards are a deep black, with a galaxy design with a North Carolina blue block text. The black on the back of these cards make it a highly condition sensitive set, due to the edges chipping from the foil design during the cutting process, making PSA 10's a highly sought after card with a lower population.

The Michael Jordan at the time of writing only has a total of 732 cards graded, with only 27 of them scoring a perfect gem mint 10, with a 8 garnering the average grade for this card with a total of 319 examples. In total population from the whole set, it has only gathered a total of 68 PSA 10 Gem Mint grades for all of the 15 cards in the set, with a majority of the cards having ZERO 10's, making a full PSA 10 set impossible.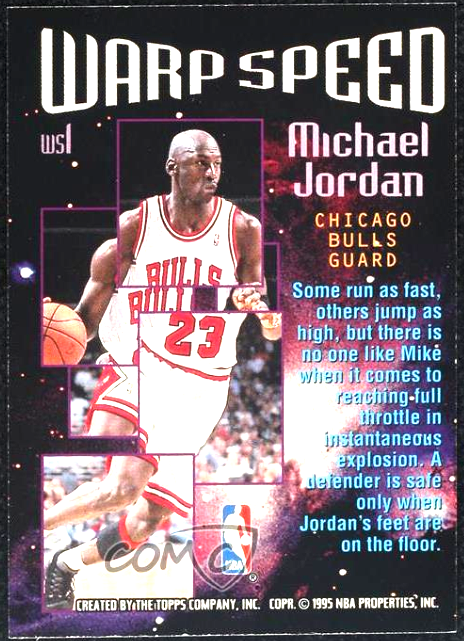 1995-96 Topps Stadium Club Basketball Warp Speed Checklist:​
#WS1 Michael Jordan - Chicago Bulls
#WS2 Kevin Johnson - Phoenix Suns
#WS3 Gary Payton - Seattle SuperSonics
#WS4 Anfernee Hardaway - Orlando Magic
#WS5 Mookie Blaylock - Atlanta Hawks
#WS6 Tim Hardaway - Golden State Warriors
#WS7 Scottie Pippen - Chicago Bulls
#WS8 Jason Kidd - Dallas Mavericks
#WS9 Grant Hill - Detroit Pistons
#WS10 Nick Van Exel - Los Angeles Lakers
#WS11 Kenny Anderson - New Jersey Nets
#WS12 Latrell Sprewell - Golden State Warriors
We suspect this set to continue to rise in value, so if you are interested in loading up now while they are still affordable check them out on
eBay, Here