2021 Panini Prizm Football FOTL First Impressions
Posted: June 3, 2022, 3:42 am
by bionic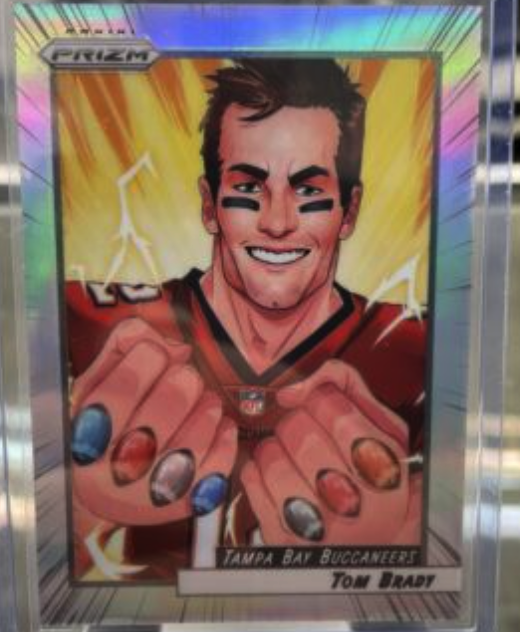 After a night of watching tons of 2021 Prizm Football FOTL group breaks, I have come to the conclusion that Panini doesn't have any type of heart at all for the product they are selling to their customers, with outrageous pricing of boxes around $2100, you would expect the box to contain exactly what it promises on the package - 2 Autographs. I have seen several boxes with 0 live autographs. Splitting them up with 400 Panini Points and the lousy dreaded redemptions, for a product coming out so late, there shouldn't be any redemptions at all in my opinion, and the sticker autographs, and the "player worn" jersey cards are another slap in the face.

The only thing this product has going for it is the amount of colored variants and parallels it contains. The blue, green, gold shimmer cards are surely to bring a nice penny those of us who are lucky to gamble on such an expensive product, but there is a downfall to those as well. Centering on these cards is absolutely horrible, mostly top/bottom with blatant cutting issues makes you wonder if there was any quality control put into this product at all. Some times the centering is so bad it totally ruins the whole eye appeal of the card in question.

Manga cards, I have watched several cases get opened up, and have yet to see a Manga card pulled live, but on eBay there are a total of 2 Manga cards on the auction block, a Dak Prescott with a $1999.99 starting bid or best offer, and a Tom Brady with the Thanos homage art work which is currently at $15,000 with 12 bids and over 6 days left. These cards are not numbered, so we have no true idea as of yet on the print run, and whoever wins the Tom Brady hopefully won't see a bunch of these start popping out of the retail and hobby boxes.

Some other big pulls listed on eBay include a Field Level Justin Herbert Snakeskin Prizm Rookie numbered just 2/2, with an asking price of $450,000 or best offer, also a Trey Lance Snakeskin Prizm not numbered, with an asking price of $100,000, and a Trey Lance Gold Vinyl Autographed with a SSP of /5 for $45,000. A gold shimmer Tom Brady numbered 6/10 with an asking price of $39,999.99.

While there are definitely a lot of chances at hitting some major mojo in these boxes, we are disappointed in the quality control and pretty much the same tired design year after year. Imagine hitting a $50,000 card only to get a grade of 8 on it because all of its appeal is gone due to horrific centering, and I am not exaggerating on the horrible cut jobs on these cards, they look worse than some Fleer Basketball cards that came out in the 1980's. You would think by now, that technology would prevent this madness, or at-least have employee's who give a crap about their job loading the sheets properly into the machines that is supposed to precisely cut the cards.

As always, good luck and happy hunting. If you have opened any 2021 Prizm Football, wether on your own or got some hits in a group break, please share your photos with us!