Bronny James Basketball Card Debut: 2023 Topps McDonald's All-American Collection Release
Posted: September 1, 2023, 2:23 am
by admin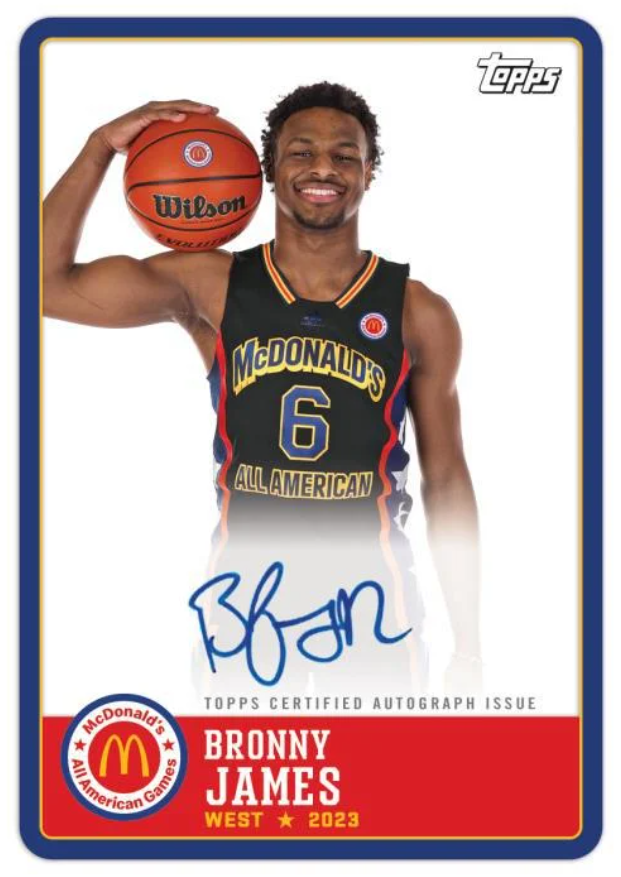 Next month, the market will see the highly anticipated launch of Bronny James' basketball cards. In the upcoming 2023 edition of Topps Chrome McDonald's All-American Basketball, collectors and fans alike can look forward to trading cards featuring the talented Bronny James, who is set to join USC's basketball program.

Bronny James, an 18-year-old rising star, notably participated in the March 28th game in Houston, representing one of the East and West squads. The new card set is centered around the rosters of these squads, capturing memorable moments from the event.

Despite a recent health scare when Bronny James experienced a collapse and cardiac arrest during a workout in July, believed to be related to a congenital heart defect, he remains resolute. The promising 6'3 guard is currently attending classes at USC, with hopes of returning to the court soon, demonstrating admirable resilience.

The 2023 McDonald's All-American basketball players, both on the boys' and girls' sides, are considered top prospects in the basketball world. Among them, Isaiah Collier, the 2023 Naismith Prep Player of the Year and a future USC teammate of James, will also be featured in this exciting card collection.

The Topps Chrome product will be available in hobby boxes, each containing 20 packs with four cards per pack. Typically, a box will include two autographs, a McDonald's Logo parallel, and at least six base card Refractor parallels. Furthermore, every case of 20 boxes will include a randomly inserted Red n Gold Vibrations or Superfly insert card, adding to the excitement.

The comprehensive base set comprises 100 cards, showcasing players from both the boys' and girls' East and West squads. Collectors can look forward to various parallels, including Refractor, McDonald's All-American Game Logo Parallel, Lava Refractor, Aqua Wave Refractor, Aqua/Fuchsia Swirl Refractor, Fuchsia Refractor, Fuchsia/Blue Swirl Refractor, Blue Refractor, Blue Mini-Diamond Refractor, Yellow Mini-Diamond Refractor, Gold Refractor, Orange Refractor, Orange Basketball Refractor, Black Refractor, Red Refractor, SuperFractor, and Printing Plates.

Moreover, the set boasts intriguing inserts, such as New Waves (averaging one per box) and Future Stars (one in every six packs). Additionally, collectors can discover 2007 Topps McDonald's All-American throwback cards (one in every three packs) with corresponding parallels, including Gold Refractor, Orange, Red Refractor, 1/1 SuperFractors, and Printing Plates. A rare find in this collection is the Red 'n' Gold Vibration inserts, numbered to just 10 copies.

Autograph enthusiasts will be pleased to know that autograph parallels are limited to no more than 99 copies each. These include Aqua Refractor, Yellow Refractor, Gold Wave Refractor, Orange Basketball Refractor, Red Refractor, SuperFractor, and Printing Plates. Notably, Gameday autographed cards are deemed "limited" by Topps.

Mark your calendars for the release date of the 2023 Topps McDonald's All-American boxes, set to hit the market on September 27th, offering an exciting opportunity for collectors and fans to commemorate the talents of these young basketball stars.