Dale Earnhardt's Original Race Car Up For Auction!
Posted: September 26, 2023, 4:58 pm
by bionic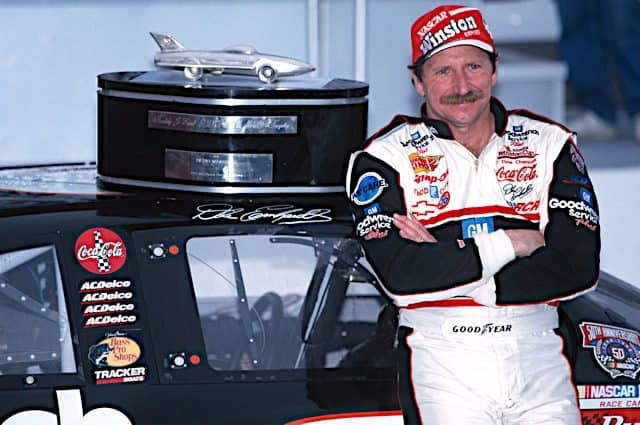 NASCAR, the world of roaring engines, speed, and thrilling competition, was blessed with the presence of Dale Earnhardt, a racing legend whose name resonates with every twist and turn on the racetrack. His legacy and accomplishments within the sport are unparalleled, and it is hard to find a fan who doesn't recognize the weight his name carries within the NASCAR community. Now, imagine owning a piece of this rich history. That's right! One of the original race cars from this icon's fleet is now on the auction block.

The celebrated Dale Earnhardt, for those who may not be familiar, was a maestro on the racetrack. Earning the affectionate moniker, the "Intimidator," he could make his competitors sweat with his aggressive driving style and his signature black-hat persona. A titan in the motorsports world, Earnhardt was a tour-de-force, winning seven NASCAR Cup Series championships. This impressive achievement has him sharing the limelight with racing luminaries like Richard Petty and Jimmie Johnson. Moreover, with 76 career victories to his name, he's proudly seated at the eighth position on the all-time win list. And who can forget his crowning moment in 1998 when he clinched victory at the Daytona 500?

Now, while he was still burning rubber for Richard Childress Racing, the Intimidator wasn't content with just being a driver. He decided to start his very own race team. Thus, Dale Earnhardt Inc. was born. The team made a significant mark, participating in both the Cup Series and the NASCAR Busch Series. It was under this banner that the car now up for bid was built.

This prized vehicle proudly carries the No. 8. For fans, this number is a nostalgic throwback, reminding them of Dale Earnhardt Jr., the Intimidator's son, who used the same number throughout his NASCAR journey. As of now, the bid for this iconic piece of machinery stands at an impressive $50,000 at the September Elite Auction at Goldin Co. And here's the cherry on top: all the proceeds from this bid will go to 'Grow with Grey', an esteemed non-profit dedicated to Autism Awareness.

Zooming back to 1996, Dale Earnhardt Inc. hit the scene, and the No. 8 Busch Series car, now being auctioned, had the privilege of being driven by various drivers. This includes not only Earnhardt Jr. but also the star of the current Cup Series, Martin Truex Jr. A poignant memory associated with DEI is that cars driven by Michael Waltrip and Earnhardt Jr. took the first and second positions at the 2001 Daytona 500, the very race that tragically witnessed the demise of the senior Earnhardt.

If you're contemplating the worth of this car, consider its pristine condition. Not only does it come with all its original technology, but it also features the first TD1 Chassis. The dashboard, a crucial part of any car, especially a race car, is intact with fully operational instruments. True NASCAR aficionados would be thrilled to see the original sponsorship stickers still clinging to its surface, including the ones from the Busch Series and the longtime NASCAR sponsor, Bass Pro Shops.

This magnificent piece of history also boasts of original technology including fire suppression systems, state-of-the-art communications devices, and brand-new Goodyear Eagle racing tires. Under its hood, the original engine waits, ready to roar and rumble. Inside, the switches, gauges, and other dashboard details are preserved as they were. Naturally, there are a few battle scars in the form of scratches and dents, but isn't that what gives a race car its character?

Dave Amerman, a leading figure at Goldin, couldn't contain his excitement about the auction. "Dale Earnhardt's name is synonymous with NASCAR excellence. Auctioning a car crafted by his family company, especially as his son Dale Jr. continues to make waves in the sport, is indeed a moment of pride for us," he stated.

So, for those who live and breathe NASCAR, this is a golden opportunity. Owning this car isn't just about possessing a vehicle; it's about holding onto a piece of history, an embodiment of a legend's legacy. Dale Earnhardt's spirit, his passion, and his commitment to the sport are all immortalized in this car. And for the lucky bidder, it'll be a timeless reminder of NASCAR's glorious past.