Disney Lorcana Frozen Card Sells For Over $7000
Posted: November 2, 2023, 9:04 pm
by bionic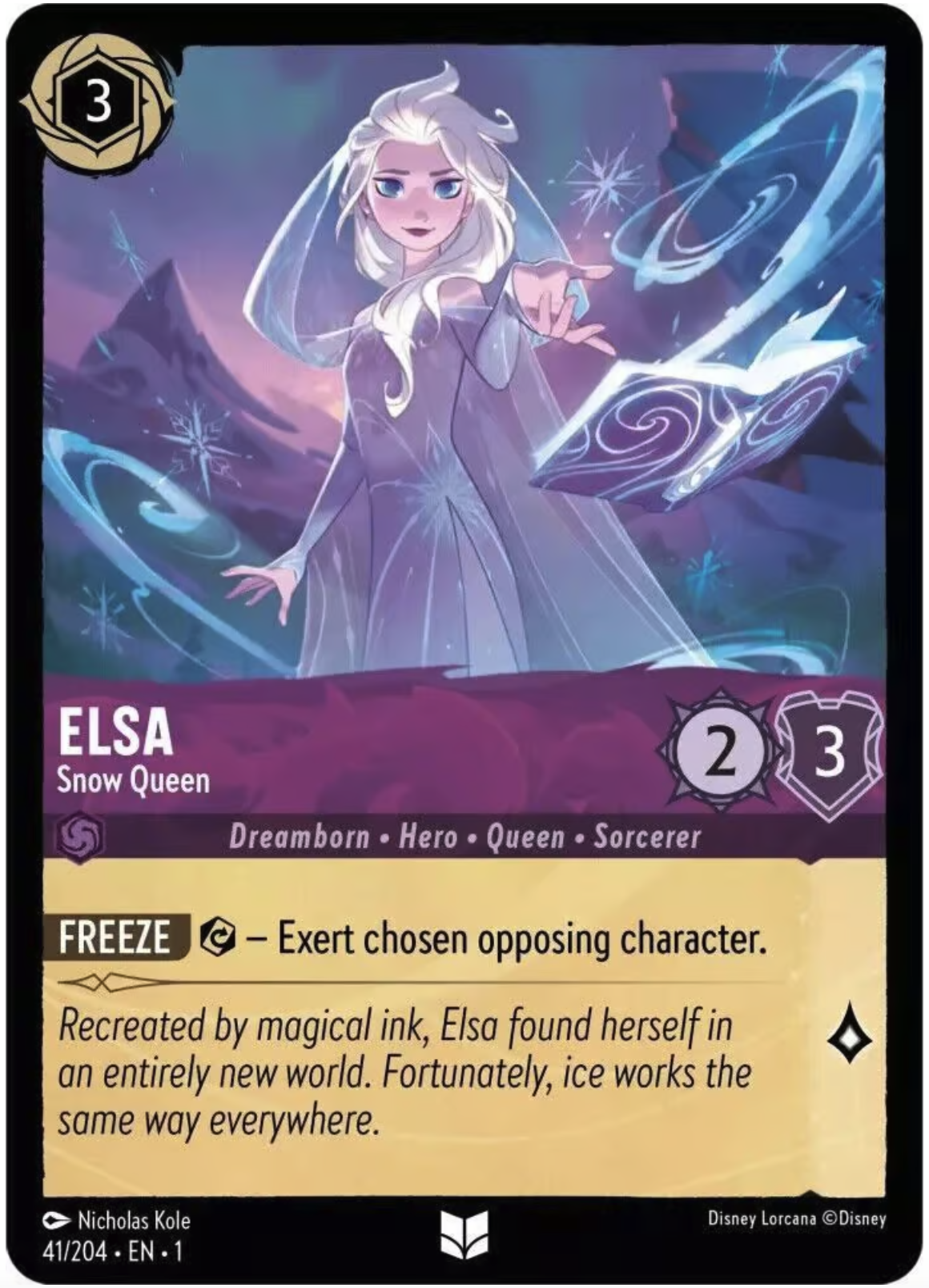 In the increasingly competitive terrain of trading card games (TCG), Disney Lorcana has rapidly established itself as a beacon of fanfare, especially with its much-anticipated first set and the forthcoming Rise of the Floodborn expansion. Amidst this rising tide of enthusiasm, one card has shimmered through, manifesting the cultural zeitgeist within its cardboard confines—the Elsa, Snow Queen card.

The chilly charm of Elsa from the cinematic powerhouse "Frozen" has transcended the screen to crystallize her status within the Disney Lorcana universe. Since its groundbreaking debut in 2013, Frozen has solidified itself as a colossal success, weaving an icy spell of enchantment on audiences globally. The fervor has not melted over time, largely thanks to the anthem "Let It Go," catapulting Elsa to the apex of Disney's modern era.

The Disney Lorcana card game, while still in its nascent stages, is showing signs of maturity akin to well-established counterparts in the TCG industry. In a staggering display of its burgeoning value, an Elsa card has recently been auctioned for an eye-watering sum surpassing $7000. This figure not only shatters previous records held by Lorcana cards but also sets a new pinnacle for the value of cards within the game, boasting an increase of 600% from the former high watermark—a card that commanded over $1000.

What makes this particular Elsa card's auction price so stratospheric? Several factors conspire to crown this card as a prized possession for collectors. Firstly, this was no ordinary Elsa card—it was stamped with a promotional mark from Disney's D23 expo. This stamp is a signal flare for rarity, exclusivity, and a rich provenance that entices the echelons of serious collectors.

Adding to its allure, the card in question wasn't just another well-kept collectible—it achieved a Gem Mint 10 grading. For those unversed in the grading scale, this is a near-mythical status that denotes the card is virtually flawless, pristine as if Elsa herself had conjured it from the ethereal snow.

The sale, finalized on eBay, at $7050, speaks volumes about the confidence and the financial muscle that collectors are willing to flex for a piece of Disney's magic-laden card game. Disney's strategic incursion into the TCG market seems not just a flirtation with a new medium but a calculated foray, one that is reaping rewards and setting the stage for Lorcana's presence as a potential mainstay.

"Frozen" and its wintry wonder has clearly not lost an ounce of its magnetic pull. Elsa, as a character and cultural icon, continues to be a formidable force in merchandise, and now, unequivocally in the realm of TCGs through Disney Lorcana. This auction not only underscores her undiminished appeal but also signals the financial viability and collector enthusiasm that is enveloping Disney Lorcana.

To some, the sum might seem steep, but for the dedicated TCG collector, such acquisitions are not mere transactions—they're investments, they're statements, and perhaps above all, they are tangible pieces of a beloved narrative. The lore of Lorcana, although still unfolding, is now indelibly etched with the legend of a $7000 card, which will no doubt inspire tales among enthusiasts and players for years to come.

Such a phenomenal sale early in the game's life cycle is telling. It's a potent combination of nostalgia, quality, and rarity that drives the value of TCG cards, and Lorcana has played its hand well. With Elsa leading the charge, it's a strong indicator that Disney has not only penetrated the market but has done so with the prowess of a seasoned enchantress.

The implications for Disney Lorcana's future are fascinating. As collectors vie for rare finds and invest significant sums into their passion, it's clear that the TCG scene is not just a playground for the nostalgic or the speculative. It is a dynamic marketplace where cultural icons like Elsa find new life and where the artistry of games intersects with the business of collecting.

This sale does more than just set a benchmark; it hints at a thriving ecosystem for Disney Lorcana, where the value of cards may continue to rise as the game expands and matures. With its entry into the competitive space, marked by such a meteoric sale, Disney Lorcana could well be on its way to becoming not just a curiosity, but a formidable and enchanting landscape in the TCG world.