Exploring the Artistic Realm of Pokémon TCG: Scarlet & Violet—Obsidian Flames
Posted: September 16, 2023, 4:31 pm
by bionic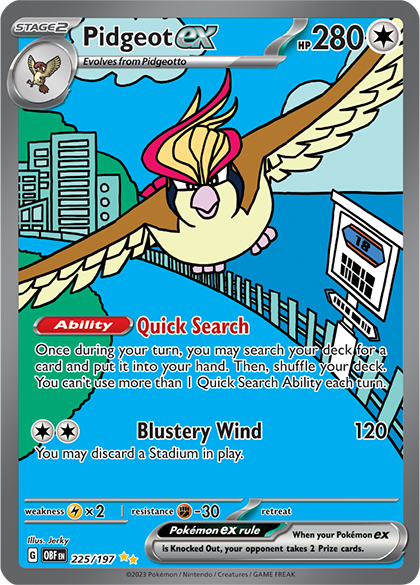 The Pokémon Trading Card Game has always charmed fans with its vibrant artwork. Yet, the illustration rare cards have taken this charm to a whole new level. These cards, complete with a full-card artwork, encapsulate tales, rejuvenate familiar Pokémon, and flaunt intricate details that captivate the beholder. Particularly, the Pokémon TCG: Scarlet & Violet—Obsidian Flames expansion offers a rich tapestry of spellbinding visuals that deserve a closer look.

Starting off with Illustrator Jerky's amusing touch to Pidgey and its Evolution lineage. Picture a scene with multiple Pidgey playfully scattered against a radiant yellow canvas. Some are curious; others are more reticent. This playful vibe continues with Pidgeotto, which sports a vibrant personality against a lush green backdrop. Completing the set, Pidgeot ex seems to dive straight towards the observer, set against a whimsical landscape. These cards are interactive, inviting viewers to playfully spot various Pidgey and discover route signs.

Then there's the curious Terastal phenomenon, which allows for a shift in Pokémon types. Toshinao Aoki's portrayal of Eiscue, for instance, is both innovative and comedic. By turning the water-type Eiscue into a fire-type using a burning chandelier as a prop, the Pokémon's familiar icy landscape is amusingly disrupted.

Lechonk, which isn't typically associated with sophistication, is reimagined in Narumi Sato's hands. While the Hog Pokémon is shown in a state of lazy relaxation post-meal, the surroundings—detailed floor tiles, graceful potted plants, and the artful use of light and shadow—elevate the scene into an artistic masterpiece.

For those with a penchant for the quirky, Masako Tomii's Gloom promises a delightful visual treat. Amid a colorful jungle background, Gloom, unfazed by its dripping fluids, marches on, owning its distinct vibe. The scene is further enlivened by two little Weedle peeking from their leafy hideout.

In stark contrast is Oku's rendition of Scizor. This portrayal paints a dramatic, almost post-apocalyptic scene. With a vivid crimson sky that seamlessly merges with Scizor and the darkened tendrils of grass below, it feels as if one is staring into an impending doom.

Concluding the visual journey is Akira Komayama's bubbly portrayal of Palafin. This lively depiction captures a group of Palafin in both Hero and Zero Forms, swimming amidst a plethora of animated details. From numerous bubbles to their spirited faces, it's a joyous visual celebration.

To wrap it up, the Pokémon TCG: Scarlet & Violet—Obsidian Flames expansion is a testament to the world of artistic possibilities. Each card, curated by distinct illustrators, offers fans a fresh perspective on their cherished Pokémon. This set doesn't just spotlight Pokémon in newfound ways but also applauds the prodigious skills of the artists who breathe life into them.