George Mikan's 1948 Rookie Card Breaks Goldin Auction Records
Posted: September 16, 2023, 4:06 pm
by bionic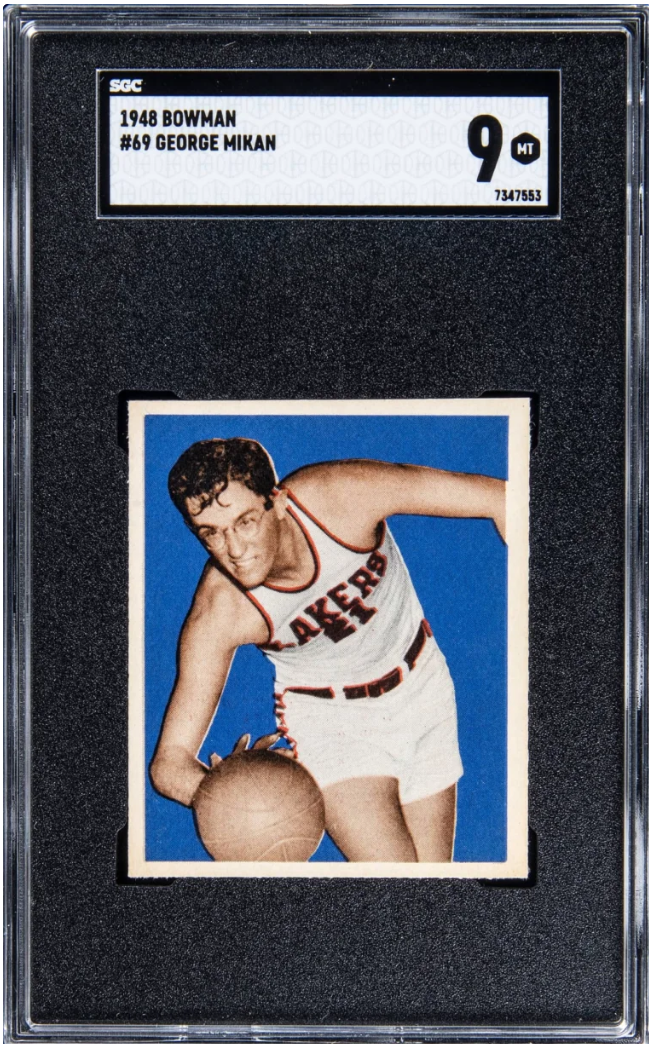 In the world of basketball, some names echo louder than others, such as Kareem-Abdul Jabbar, Wilt Chamberlain, and Bill Russell. These players, revered for their skills and contributions, have deeply impacted the trajectory of the sport. But before they graced the courts, there was another luminary: George Mikan.

Originating from Joliet, Illinois, George Mikan played for DePaul University before leaving a lasting impression on the NBA during the late 1940s and early '50s. Standing at an imposing 6-10, Mikan showcased a new style of play and dominance in his position as a center. Between 1948 and 1951, his performances were nothing short of stellar, scoring averages of 28.3, 27.4, and 28.4 points in the respective years. When he finally retired after a commendable seven-year stint, he boasted averages of 23.1 points and 13.4 rebounds per game.

Coinciding with Mikan's rise to fame, Bowman introduced its official basketball card set. Interestingly, this initiative from Bowman lasted only a year, making the 1948 set a rarity among basketball card collectors.

Within this limited collection, Mikan's rookie card emerged as the most sought-after treasure. Its value and rarity became evident when, in a previous sale, a PSA 9 graded 1948 Bowman George Mikan rookie card fetched an astounding $800,000 on eBay, smashing earlier records by nearly $400,000.

The allure of this card didn't diminish over time. In a recent Goldin 100: Part 2 auction, a 1948 Mikan rookie card, with an SGC MINT 9 grade, was sold for a notable $228,000. Goldin's documentation points out that this specific grade of the card is unique, with no other known counterparts.

However, Mikan's card wasn't the sole highlight of the Goldin auction. A 1984-85 Star #101 rookie card of Michael Jordan, with a PSA 8.5 grade, changed hands for $144,000, establishing a new record for that specific grade. Adding more luster to the event was the sale of a 1916 M101-4 Blank Back #151 Babe Ruth rookie card, graded SGC 1.5 FR 1.5. This vintage piece, reminiscent of baseball's golden era, commanded a price of $288,000, another first for its grade.

The records set at the Goldin auction reflect more than just monetary value. They signify the respect, nostalgia, and admiration that enthusiasts hold for the game's pioneers. It's heartwarming to observe that, even in an era bustling with new sports sensations, there's still a profound appreciation for trailblazers like George Mikan. These collectible cards, while merely printed laminates, encapsulate an era and the immense legacies of the athletes they portray.