Jalen Hurts' Record-Breaking Contract Extension: Impact on NFL Quarterback Market
Posted: April 18, 2023, 4:22 pm
by admin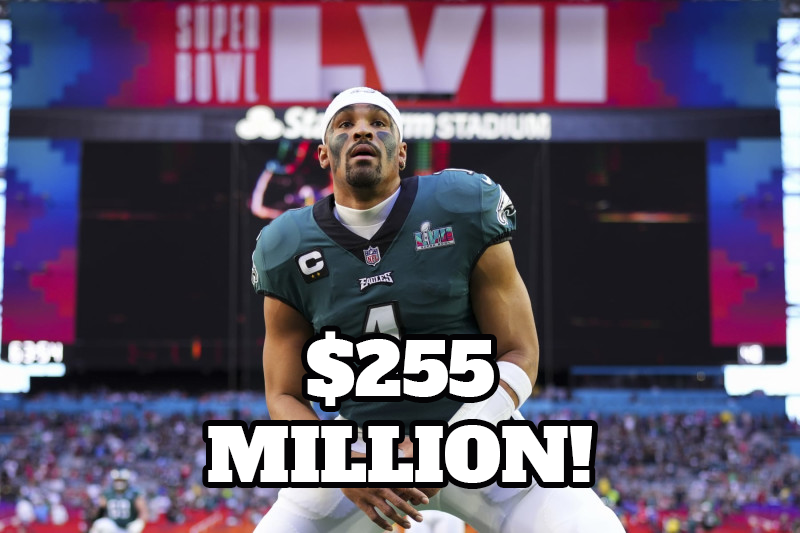 Philadelphia Eagles' quarterback Jalen Hurts, a 2020 second-round pick who began his NFL journey as a backup to Carson Wentz, has come a long way. In less than three years, he has become an NFC champion and the league's highest-paid player. His contract extension is not only a testament to his talent but also sets a new benchmark for future quarterback deals in the NFL.

Eagles Seal the Deal with Jalen Hurts

NFL Network's Ian Rapoport and Tom Pelissero reported that the Eagles signed Hurts to a five-year, $255 million extension, surpassing Aaron Rodgers' $50.3 million-per-season deal with the Green Bay Packers in terms of annual salary. Hurts' new contract features $179.3 million in guarantees, ranking third behind Deshaun Watson and Kyler Murray. The deal also includes a no-trade clause, marking a first for an Eagles contract.

The new deal is a win-win for both Hurts and the Eagles. Philadelphia secures an elite quarterback and potential MVP contender through the 2028 season. However, it may not bode well for NFL teams looking to sign their quarterbacks at a discounted price, as each new extension seems to outdo the previous one.

The Ripple Effect: Quarterback Market Impacts

Rodgers became the highest-paid player in the league when he signed his contract on March 8, last year. Murray's extension with the Arizona Cardinals followed, with higher guarantees than Rodgers' deal, but a lower annual salary. Russell Wilson's five-year, $242.5 million extension with the Denver Broncos didn't surpass Rodgers or Murray in annual salary or total guarantees but had a staggering $124 million fully guaranteed at signing.

The contract extensions for quarterbacks like Joe Burrow of the Cincinnati Bengals, Justin Herbert of the Los Angeles Chargers, Tua Tagovailoa of the Miami Dolphins, and Lamar Jackson of the Baltimore Ravens (who is yet to sign his franchise-tag tender) are now likely to be influenced by Hurts' deal.

Tagovailoa may not receive a record-breaking deal immediately due to his single season of Pro Bowl-level play and multiple concussions in 2022. However, if Burrow, Herbert, or Jackson sign long-term contracts this offseason, their deals are expected to either:


Be worth more annually than Hurts' $51 million per season.
Include more guaranteed money than Murray's $189.5 million deal.
Include more guaranteed at signing than Wilson's $124 million contract.
Brad Spielberger of Pro Football Focus projected Burrow to receive a four-year, $214 million extension with $185 million in guarantees. While it doesn't surpass Hurts' total earnings, Burrow's $53.5 million annual salary would become the highest in league history.
A five-year extension for Burrow could be valued at around $265 million. Subsequent quarterback signings could demand even more in terms of annual salary, total guarantees, or immediate guarantees.
The Future of Quarterback Contracts
Watson's fully guaranteed $230 million deal with the Cleveland Browns last offseason was a game-changer. However, team owners have resisted embracing fully guaranteed contracts as the new standard.
Guarantees seem to be a sticking point in negotiations between Jackson and the Ravens. While Jackson seeks a fully guaranteed deal like Watson's, the Ravens consider Watson's contract an outlier rather than a precedent.
Hurts' extension supports the Ravens' stance and works against Jackson. As a top-five quarterback at just 24 years old, if Hurts couldn't secure a fully guaranteed contract, it's unlikely others will.
ESPN reported that Jackson rejected a five-year, $250 million offer with $133 million guaranteed at signing. Hurts' deal, with $110 million guaranteed at signing, makes the Ravens' offer to Jackson appear reasonable.
Fully guaranteed contracts may not become standard in the NFL anytime soon. Jackson has the option to sign an offer sheet from another team or request a trade. While he may receive a pay raise from the $32.4 million he's set to earn on the franchise tag, it's unlikely he'll get the deal he desires unless a team is as desperate as the Browns were for Watson.
Quarterbacks like Burrow, Tagovailoa, and Herbert are also unlikely to receive fully guaranteed contracts. Hurts' extension has dampened those hopes.
However, for quarterbacks content with earning over $50 million per year and having more than 70% of their contracts guaranteed, Hurts' deal is a significant development.
Jalen Hurts' record-breaking contract extension with the Philadelphia Eagles has set a new bar for the NFL's quarterback market. Although fully guaranteed contracts may not become the norm, the latest deal has paved the way for other star quarterbacks to negotiate higher salaries and substantial guaranteed money. As the quarterback market continues to evolve, the value of these contracts could continue to soar, with annual earnings potentially exceeding $55 million in the coming years.