Jordan Autographs & Precious Metal Gems (PMG) Return
Posted: September 15, 2022, 12:43 am
by admin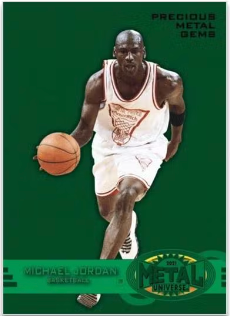 Fresh off the press is 2021 SkyBox Metal Universe, with it brings the return of autographed Michael Jordan cards and Precious Metal Gems (PMG).

This is a multi-sport release and also features autographs by many of the all time greats including LeBron James, Ken Griffey Jr., Tiger Woods, Wayne Gretzky, Allen Iverson, Trevor Lawrence. Also are a nice list of notable rookies, including Adley Rutschman, Mac Jones, Chloe Kim, Trey Lance, Shane Wright, Sabrina Ionescu, Bryson DeChambeau, Collin Morikawa, Josh Giddey, Scottie Barnes, Jalen Green, Franz Wagner, Coco Gauff and many more.

The box break consists of:

6 Arc Weld, Intimidation Nation and/or Blast Furnace Cards.
3 Skybox Premium Cards.
3 Base Set Retro 1997-98 Cards.
At-least 1 PMG, Low Serial # Card, Autographed Card, or Rare Insert.
1 Reaching for the Stars or A Cut Above Card.
As of right now, the boxes are retailing for $1199.99 for a hobby box, and $18,999.99 for a sealed case.