Jordan Walker: The Rookie Phenom Lighting Up the Saint Louis Cardinals
Posted: July 7, 2023, 12:51 am
by bionic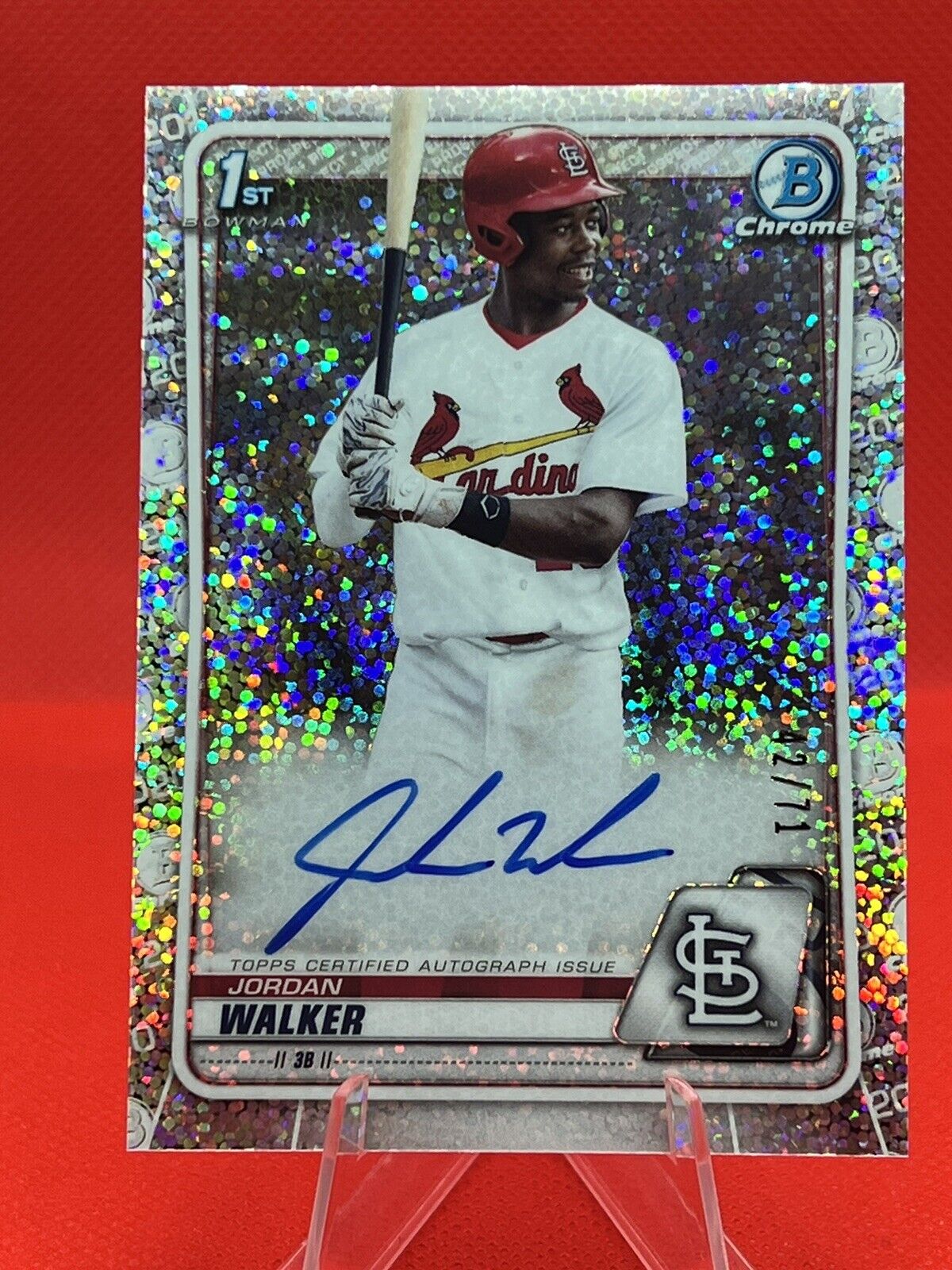 In the realm of professional sports, it's not uncommon for talented rookies to make a splash upon entering the big leagues. One such rookie currently captivating baseball fans is Jordan Walker, a rising star for the Saint Louis Cardinals. Despite his young age and limited experience, Walker has been making waves with his impressive performances, including recording a hit in 33 of the 38 games he has started. While the baseball world takes notice of his remarkable achievements, collectors and enthusiasts can still find his coveted 2020 Bowman Draft Auto for under $1000.00.


Emerging as a Force:​
Hailing from the state of Georgia, Jordan Walker has rapidly become a player to watch in the Major League Baseball (MLB) community. The Saint Louis Cardinals recognized his potential and selected him with the 21st overall pick in the 2020 MLB Draft. Since then, Walker's ascent has been nothing short of remarkable. At just 19 years old, he possesses a rare combination of raw power, exceptional bat speed, and solid defensive skills, making him a force to be reckoned with on the field.
Consistent Hitting Prowess:​
One of the most notable aspects of Jordan Walker's performance is his uncanny ability to record hits. In the 38 games he has started thus far, Walker has achieved the impressive feat of recording a hit in 33 of them. This consistency at the plate is not only a testament to his skill but also an indication of his maturity and adaptability as a player. Whether facing veteran pitchers or battling against formidable opponents, Walker continues to make his presence felt with his formidable hitting prowess.
A Powerhouse in the Making:​
At 6 feet 5 inches tall and weighing in at 220 pounds, Walker possesses a naturally powerful physique. This, combined with his exceptional hand-eye coordination and smooth swing mechanics, allows him to generate tremendous power when connecting with the baseball. He has already showcased his ability to hit towering home runs and drive in crucial runs for the Cardinals. As he continues to gain experience and refine his skills, it is not unreasonable to expect Walker to become a true powerhouse in the MLB in the years to come.
Collecting Jordan Walker's 2020 Bowman Draft Auto:​
For baseball card collectors and enthusiasts, owning a piece of Jordan Walker's early career is an exciting prospect. His 2020 Bowman Draft Auto card, which features his signature, holds significant value as a symbol of his potential and early success in the MLB. Remarkably, despite his meteoric rise and consistent hitting performances, collectors can still find this highly sought-after card for under $1000.00.
It's important to note that as Walker's career progresses and his popularity continues to grow, the value of his autographed cards will likely increase. Therefore, acquiring his 2020 Bowman Draft Auto card at its current price could be an excellent investment opportunity for those who believe in his long-term potential and anticipate his continued success on the field.
Jordan Walker's impact on the Saint Louis Cardinals and the baseball world as a whole cannot be understated. With his exceptional hitting abilities, raw power, and consistent performances, Walker is quickly solidifying his place as one of the league's brightest young stars. Collectors and fans alike have the unique opportunity to acquire his 2020 Bowman Draft Auto card for under $1000.00, representing a chance to own a piece of his early career at a relatively affordable price. As Jordan Walker's journey unfolds, one thing remains clear: the baseball world is witnessing the rise of an extraordinary talent with the potential to leave an indelible mark on the sport.