Julio Rodriguez: From Seattle Mariners' Star to Topps Trading Card Curator
Posted: September 20, 2023, 10:15 am
by bionic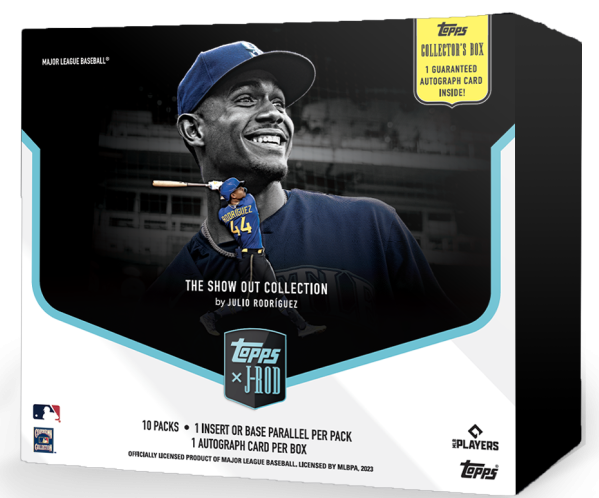 While Julio Rodriguez is widely celebrated for his on-field expertise with the Seattle Mariners, his off-field ventures are carving an equally impressive narrative. Barely into his twenties, this Dominican sensation has been showcasing an exceptional season in the baseball realm. Beyond the stadium's confines, his endeavors are gaining momentum, especially with his recent collaboration with the iconic Topps Trading Cards.

Forging an endorsement deal with Topps is a testament to Rodriguez's expanding horizon. As part of this partnership, Rodriguez has not only featured in an engaging commercial video series but has also contributed to the creation of the exclusive "Topps X" product, which was launched to public acclaim last Tuesday.

Julio's involvement wasn't superficial. He wasn't merely a face to sell more packs. He delved deep into the curation process, playing an integral role in photograph selection and even influencing the roster of players featured in "The Show Out Collection."

This collaboration situates Rodriguez among a select group of baseball elites who've had the privilege to co-create with Topps. These collaborations give fans unique, online exclusive sets that merge the best of baseball talent with collectible allure.

"The Show Out Collection" offers card enthusiasts two distinct purchasing experiences. One can either opt for the 10-pack box, assuring them an autograph - either from Rodriguez or another stellar player. Alternatively, there's the three-pack box, with autographs peppered across sets, making an appearance in every fourth box. Irrespective of the choice, each pack unfolds seven cards, guaranteeing at least one numbered base-card parallel or a coveted insert.

Given the anticipated demand, it was unsurprising that both versions were snapped up within mere minutes of their introduction. However, for those who couldn't secure their set initially, a few have made their way to eBay.

At the heart of "The Show Out Collection" is the base set, rich with 100 distinct cards. Among these, rookies claim 13 spots, offering fans a glimpse of baseball's future luminaries. But Topps ensures that the legends of yore aren't forgotten. A few cards celebrate past baseball giants, with a special nod to those who've shined in Seattle, including the likes of Ken Griffey Jr., Randy Johnson, Ichiro, and Jay Buhner. Additionally, collectors can chase after eight distinct numbered parallels for each card, all capped at 99.

Beyond the foundational cards, the collection is enhanced with five insert sets: J-Rod's Career Highlights retracing Rodriguez's significant moments; Fountain of Youth spotlighting upcoming talents; Rookie of the Year Award Winners commemorating those who've clinched the title; Anime Art that marries baseball with Japanese animation finesse; and Behind the Scenes, offering fans a rare sneak peek into Rodriguez's Topps video shoots.

The autographs segment is, without doubt, a key attraction. Apart from the base card parallels and ten select rookie autographs, collectors will be keenly hunting for Rodriguez autographs, slipped randomly into sets. In a bid to offer variety, Topps has unveiled two versions graced with Rodriguez's autograph. The exact count of such prized cards, however, remains Topps' secret.

Additionally, fans can also look forward to procuring one of the five distinct Rodriguez game jersey relic cards, each narrating a tale of his meteoric rise in baseball.

Julio Rodriguez, with his partnership on "The Show Out Collection," has reaffirmed his dual stature - as a dominant force in baseball and as a connoisseur of collectibles. It's this blend of passion and talent that makes this collaboration with Topps a treasure trove for fans and collectors alike.