Justin Jefferson's Meteoric Rise: Record-Breaking NFL Card Sales and the Surging Sports Memorabilia Market
Posted: September 1, 2023, 2:28 am
by admin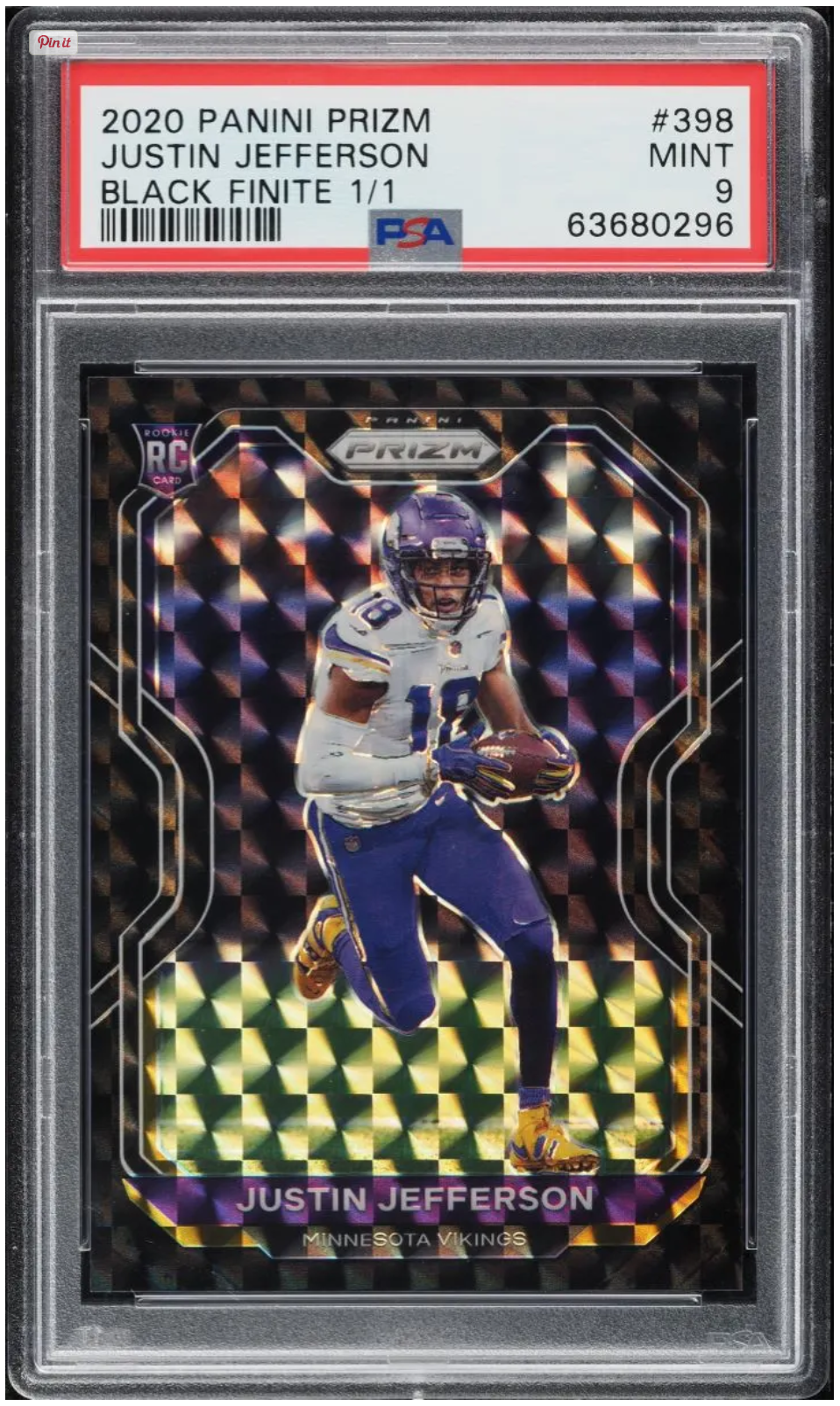 In just three short years, Justin Jefferson has risen to the pinnacle of the NFL's wide receiver hierarchy, and the Minnesota Vikings sensation appears destined for a place among the all-time greats.

Hailing from LSU, Jefferson's remarkable journey saw him lead the league with 128 receptions and a staggering 1,809 yards last season, ultimately earning him the prestigious title of NFL Offensive Player of the Year. As a three-time All-Pro, he has astoundingly amassed 324 catches, 4,825 yards, and 25 touchdowns in a mere three-year stint with the Vikings. It's no wonder he was the top choice in countless fantasy football drafts heading into the 2023 season.

But it's not just Jefferson's on-field exploits that are turning heads; his trading cards are also commanding attention.

The spotlight recently shone on Jefferson's 2020 Panini Prizm Black Finite 1/1 #398 rookie card, which fetched a staggering $57,600 in the August Premier Auction at PWCC Marketplace. Graded as PSA 9 Mint, this card now stands as Jefferson's highest-selling trading card to date. Notably, it claims the distinction of being the most expensive NFL card sold this year for an active non-quarterback, solidifying its place as the highest-selling card among all active wide receivers.

This sale catapults Jefferson into an elite echelon, making him the second most valuable wide receiver in terms of trading card worth, trailing only football Hall of Famer Jerry Rice, who retains the current record at an impressive $150,000. Joining the ranks are Larry Fitzgerald and Randy Moss, rounding out the top four in this esteemed category.

Beyond Jefferson's record-setting card, PWCC's August auction witnessed several other young NFL stars making waves in the trading card market. Notably, cards of quarterbacks Jordan Love and C.J. Stroud fetched substantial sums.

Jordan Love's 2020 Panini Prizm Black Finite Rookie Auto card (1/1, PSA 8, AUTO DNA 10) commanded an impressive $28,000, establishing a new record for Green Bay's emerging starting quarterback. Notably, this card was discovered by a father and son duo inside a Panini Prizm pack during the National Sports Card Convention in Chicago.

Similarly, C.J. Stroud's 2023 Panini Instant Premiere First Look Black Rookie Auto card (1/1, BGS 8.5) fetched $6,750, marking the highest-selling card for the rookie quarterback. This particular card is noteworthy for being the first licensed card showcasing the second overall pick in the 2023 NFL draft donning his Houston Texans uniform, with the Black parallel being a unique and exclusive find.

Notable sales in the same auction include:


The 1990 Sports Illustrated for Kids Tony Hawk Rookie #152 (PSA 10 GEM MINT) achieved an impressive $15,000, setting a new record as the highest-selling skateboarding trading card to date. This card, part of a nine-card sheet included in the May 1990 issue of Sports Illustrated for Kids, is one of just three examples to earn PSA's top grade.
The 1997 Skybox Metal Universe Platinum Portraits Michael Jordan #1 (PSA 10 GEM MINT) fetched an astounding $90,000, marking a record for the card. A part of the Platinum Portraits collection featuring NBA stars in Hall of Fame bust-like photos, this card is exceptionally rare, with a pull rate of just one in every 4,320 packs. Only 17 examples have earned a PSA 10 grade, adding to its exclusivity.
These remarkable sales in PWCC's August auction underscore the growing allure and investment potential of trading cards in the world of sports memorabilia.
The standout performance of Justin Jefferson's rookie card is a testament to his meteoric rise in the NFL. As he continues to make waves on the field, collectors and enthusiasts are eager to capture a piece of his legacy through these coveted cards.
Jefferson's ascent in the trading card market reflects a broader trend in the sports memorabilia industry. Trading cards, once considered nostalgic collectibles, have evolved into a high-stakes market where athletes' performances directly impact their card values. As new talents like Jordan Love and C.J. Stroud emerge, collectors are quick to recognize the potential of these young stars, driving up the demand for their cards.
In addition to the football realm, other sports are also experiencing record-breaking moments in the trading card market. Skateboarding legend Tony Hawk's rookie card achieving an all-time high price highlights the diversification of collectible cards beyond traditional sports like football and basketball. It underscores the enduring appeal of iconic figures in various sports disciplines.
Michael Jordan, the epitome of basketball greatness, continues to command attention, with his rare Platinum Portraits card reaching an impressive price point. The rarity of such cards and their association with legendary athletes make them coveted pieces of memorabilia for sports enthusiasts and investors alike.
The PWCC Marketplace's August auction demonstrates that the allure of sports trading cards remains as strong as ever. Collectors and investors continue to seek out these valuable pieces of sports history, driving prices to new heights. With athletes like Justin Jefferson breaking records both on the field and in the collectibles market, the world of sports memorabilia promises exciting opportunities for enthusiasts and investors alike.