LeBron vs. Jordan: The Unending GOAT Debate in the NBA
Posted: April 13, 2023, 5:48 pm
by bionic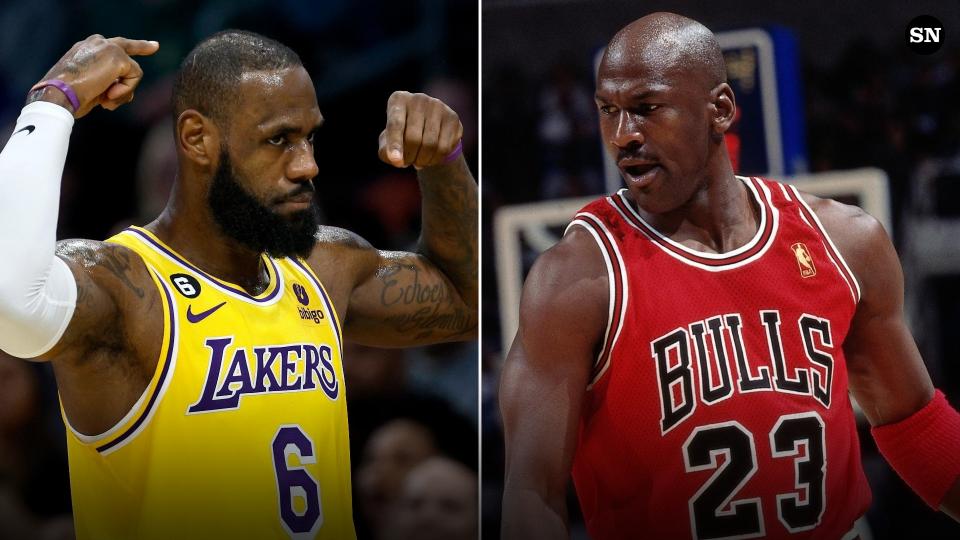 The debate over the greatest basketball player of all time, or the GOAT, has been a hotly contested topic among NBA fans and analysts for years. In recent times, the conversation has centered around two iconic players: Michael Jordan and LeBron James. Each has a unique set of skills, records, and accomplishments that make them worthy of the title, but their distinct styles and eras of play make a definitive answer elusive. This article will explore the various factors that fuel the LeBron-Jordan GOAT debate and attempt to shed light on the complex nature of this ongoing discussion.


The Case for Michael Jordan​
Michael Jordan, often referred to as "His Airness," is a six-time NBA champion, five-time MVP, and ten-time scoring champion, among numerous other accolades. Jordan's scoring prowess, aerial acrobatics, and clutch performances made him a global icon and a seemingly unbeatable force on the court. Some of the key arguments for Jordan as the GOAT include:
Perfection in the Finals: Jordan's perfect 6-0 record in the NBA Finals, with six Finals MVPs, is often cited as the ultimate display of his dominance and ability to rise to the occasion when it mattered most.
Scoring Ability: Jordan led the league in scoring for ten seasons, showcasing his unrivaled offensive skills and ability to take over games.
Defensive Prowess: Jordan was a nine-time All-Defensive First Team selection and the 1988 Defensive Player of the Year, highlighting his impact on both ends of the court.
Competitive Spirit: Jordan's relentless drive and unwavering commitment to winning are often regarded as key factors in his success and an essential part of his GOAT resume.
The Case for LeBron James​
LeBron James, known as "King James," is a four-time NBA champion, four-time MVP, and 17-time All-Star. LeBron's extraordinary athleticism, playmaking ability, and basketball IQ have allowed him to dominate the league for nearly two decades. Some of the key arguments for LeBron as the GOAT include:
Longevity and Consistency: LeBron's ability to maintain an elite level of play for nearly 20 years, with few signs of decline, is a testament to his incredible skill, conditioning, and adaptability.
Versatility: LeBron has demonstrated a unique ability to excel at multiple positions and play various roles on the court, making him one of the most versatile players in NBA history.
All-Around Game: LeBron's career averages of 27.0 points, 7.4 rebounds, and 7.4 assists per game highlight his well-rounded game and impact on every facet of the game.
Leadership and Team Impact: LeBron's ability to elevate his teammates' play and lead his teams to success, including reaching the NBA Finals ten times, speaks to his overall impact on the game.
The Ongoing Debate​
The LeBron-Jordan GOAT debate is complicated by several factors, including differences in playing style, era, and the evolution of the game. Additionally, personal biases, team affiliations, and generational gaps can also influence the way fans and analysts view the two players.
The GOAT debate between LeBron James and Michael Jordan may never have a definitive answer, as each player's unique combination of skills, accomplishments, and impact on the game make a compelling case. Ultimately, the debate serves as a testament to the greatness of both players and their lasting influence on the NBA. As fans and analysts continue to discuss and dissect their careers, one thing is certain: both LeBron James and Michael Jordan have left indelible marks on the game of basketball and will forever be remembered
as two of the greatest to ever step foot on the court.
Appreciating Greatness​
While the GOAT debate will likely persist for years to come, it is essential to appreciate the individual greatness of both LeBron James and Michael Jordan. Both players have transcended the sport of basketball, becoming global icons and role models for future generations of athletes.
LeBron's ongoing career continues to provide fans with thrilling performances, while Jordan's legendary exploits remain etched in the collective memory of basketball enthusiasts. Rather than focusing solely on who is the greatest, fans should celebrate the extraordinary achievements of both players and enjoy the unique qualities they brought to the game.
The Impact on Future Generations​
As the GOAT debate rages on, the rivalry between LeBron and Jordan serves as a source of inspiration for the next generation of basketball players. The pursuit of greatness, as embodied by these two legends, will undoubtedly motivate countless young athletes to push their limits and strive for excellence.
The LeBron-Jordan GOAT debate is a testament to the power of sports to capture our imagination and inspire passionate discussions. As the NBA continues to evolve, and new stars emerge, the debate may shift and expand to include other exceptional talents. However, the lasting impact of both LeBron James and Michael Jordan on the game of basketball will ensure that their names remain synonymous with greatness for generations to come.