Mile High Card Company Triumphs with Iconic Card Auctions
Posted: September 13, 2023, 4:41 am
by bionic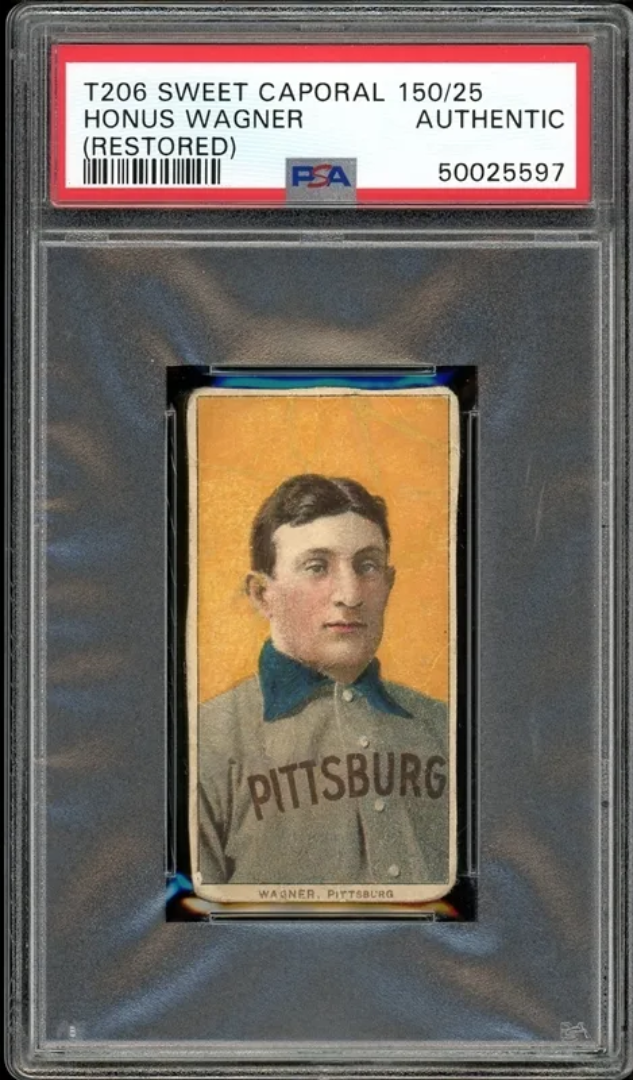 The sports collectibles landscape witnessed another major milestone, courtesy of the Mile High Card Company. Renowned for their expertise in marketing and vending the legendary T206 Honus Wagner card, their recent auction once again affirmed their dominant position in this niche market.

The latest accomplishment under their belt was the successful sale of the elusive 1909-11 T206 Sweet Caporal 150/25 card in a September auction. This exquisite piece changed hands for an impressive $1.968 million, marking a record for a Wagner card graded as PSA Authentic (Restored). The intensity of the auction was palpable, as the bids were fast and aggressive. This particular card was on the cusp of making history by becoming the first Authentic Wagner card to surpass the $2 million mark. However, the apex for Wagner cards remains the SGC 2 version that was sold for a whopping $7.25 million in a private transaction in 2022, facilitated by Goldin Co. Another highlight in the world of card sales was the SGC 3 version that drew a price of $6.6 million in 2021, courtesy of Robert Edward Auctions. These sales are notable, standing second and third only to the legendary 1952 Topps Mickey Mantle card (SGC 9.5), which clinched a record-breaking $12.6 million last year.

Brian Drent, the esteemed CEO and President of Mile High, reflected on the recent sale with pride. He remarked on the discerning nature of their clientele, stating that they recognized the unparalleled opportunity this auction presented.

Yet, the Wagner card was not the sole spotlight of this auction. Another head-turner was the 1948 Leaf Baseball unopened wax pack, which, with its PSA 7 NM grading, fetched a ground-breaking $206,017. Not too far behind, the 1952 Topps Baseball unopened wax pack 1st Series (PSA 7 NM) secured an admirable $104,045. The memorabilia section also saw fierce competition with the 1971 Bobby Orr Boston Bruins road jersey selling for $167,491, and the 1967 Willie McCovey game-used road jersey settling at $17,235.

The bidding arena from August 23 to September 7 was bustling with activity, reflecting the keen interest of the global collector community.

A slew of other cards also made waves in the auction:

The 1952 Topps #311 Mickey Mantle card garnered $131,231.
A rarity, the 1914 Cracker Jack "Holy Bible" Shoeless Joe Jackson was snapped up for $89,876.
The iconic 1963 Topps Rookie Stars #537 Pete Rose secured a cool $79,775.
Vintage cards featuring legends such as Babe Ruth and Ty Cobb saw prices ranging from $11,589 to a solid $22,373.
Other celebrated cards from the 1950s and 60s, representing sports giants like Roberto Clemente, Pete Rose, Tony Perez, and Mickey Mantle, drew prices spanning from $14,057 to a record-setting $42,195.
Football enthusiasts drove prices up for John Unitas cards, with figures ranging from $11,589 to a record-breaking $19,981.
Basketball cards, especially those of legends like Wilt Chamberlain and Michael Jordan, also saw substantial valuations, ranging from $17,945 to $34,314.
To round off the eventful auction, complete card sets, too, witnessed enthusiastic bids. A 1933 Goudey graded set commanded a price of $112,255, while its 1934 counterpart went for a respectable $32,523.

This auction further solidified the Mile High Card Company's reputation as a beacon in the world of sports collectibles, masterfully catering to the desires of passionate collectors worldwide.