NFL Prem1ere: Honoring Rookie Debuts with Commemorative Jersey Patches
Posted: September 6, 2023, 7:14 pm
by bionic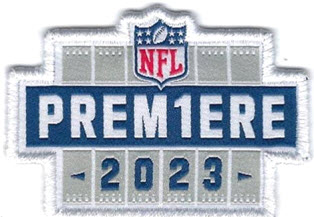 The National Football League (NFL) is following in the footsteps of Major League Baseball by commemorating rookie debuts in a special way. However, unlike the MLB's approach, these symbolic additions won't find their way onto collectible cards.

Introducing NFL Prem1ere: the NFL's pioneering jersey patch initiative. As players step onto the field for the very first time in their NFL careers, their jerseys will be adorned with a unique patch, symbolizing the significance of their league debut. Once the game concludes, these game-worn jerseys, complete with the debut patch, will be handed back to the rookies, serving as a memento of their initial NFL game.

Troy Vincent, the Executive Vice President of Football Operations, shared his enthusiasm for the program. He commented on the profound nature of an NFL rookie's first game, emphasizing the league's desire to commemorate this pivotal moment in a player's journey. By offering them a keepsake, the NFL seeks to immortalize the beginning of what could be a long and successful career.

Earlier in the year, Fanatics and MLB came together to make an announcement of their own. Every baseball rookie would be given a unique jersey patch during their debut game. However, instead of retaining these patches as souvenirs, they would be detached post-game to produce one-of-a-kind baseball cards. These exclusive cards would then be incorporated into card packs released by Topps, a subsidiary of Fanatics.

This is where the NFL's approach diverges from that of the MLB. Panini America was once the holder of the NFL and NFLPA trading card license. However, in a surprising turn of events, the players association disclosed its decision to end its contract with Panini ahead of schedule. The license would now go to Fanatics, creating a potential rivalry in the trading card space. As a result of this move, Panini is now seeking arbitration.

Fans and players alike are eagerly awaiting the commencement of the 2023 NFL season. All rookies who have secured a spot on the 53-man roster will proudly sport the debut patches during the inaugural week. This new tradition will kick off on Thursday night, with the spotlight on the Kansas City Chiefs and the Detroit Lions. As for those rookies who will be making their debut after the first week, they'll have their moment in the limelight too. Their jerseys will be adorned with the debut patch the moment they step onto the field, marking their personal inauguration into the world of the NFL.