Post Malone's $2 Million Acquisition: A Fusion of Music and Magic
Posted: August 31, 2023, 9:11 pm
by admin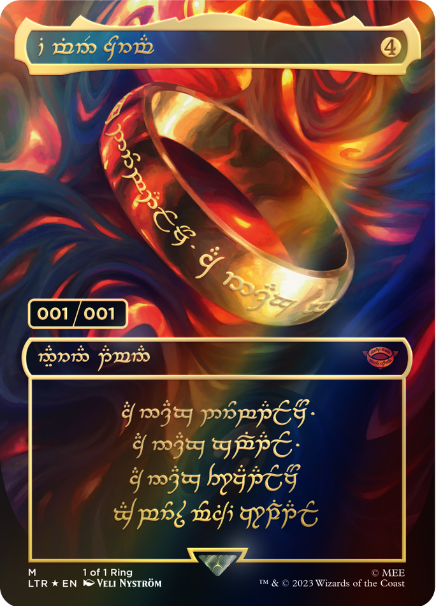 In a surprising move that has reverberated through both the gaming and music communities, renowned artist and musician Post Malone has recently made headlines with his acquisition of an exceptional 1/1 Lord of the Rings-themed Magic: The Gathering card. This unexpected crossover between the realms of music and gaming has ignited an electric surge of excitement among fans and collectors alike.

A Convergence of Worlds

Post Malone, celebrated for his chart-topping musical hits and unique artistic expression, has demonstrated a profound affinity for both music and gaming. His recent purchase of this singular Magic: The Gathering card, intricately inspired by the iconic Lord of the Rings saga, underscores the growing nexus between pop culture, entertainment, and the captivating universe of collectible card games.

The Rarity and Cultural Value

The card at the heart of this sensation, a truly one-of-a-kind collector's masterpiece, showcases intricate artwork interwoven with nods to the beloved Lord of the Rings lore. Such exclusive cards hold immense allure for both ardent Magic: The Gathering aficionados and devoted fans of the Tolkien universe. The rarity of a 1/1 card signifies its unique existence, bestowing it with a status akin to a cherished artifact among collectors.

Impact on Collectibles and Beyond

Post Malone's remarkable acquisition of the 1/1 Lord of the Rings Magic: The Gathering card, at the remarkable price of $2 million, has not only captivated enthusiasts but has also illuminated the evolving landscape of collectibles. In recent years, rare and distinctive items from the gaming sphere have surged in value, captivating the interest of celebrities and investors alike. This convergence of passion, nostalgia, and investment allure has propelled the collectibles domain to unprecedented heights.

Cultural Allure and Cross-Pollination

The fact that an artist of Post Malone's stature is immersing himself in the realm of rare collectible cards underscores the cross-genre appeal of gaming and pop culture. As celebrities openly embrace diverse hobbies and passions, it strengthens the bond between fans and the entertainment that resonates with them. Post Malone's acquisition stands as a testament to the expansive influence of franchises like Lord of the Rings and Magic: The Gathering.

Unveiling a Fresh Narrative

As the news of Post Malone's unique acquisition continues to ripple through various communities, its impact on both the music and gaming realms remains to be seen. The juncture of celebrity influence, fandom, and the allure of exceptional collectibles has unveiled new avenues for creative collaborations and unexpected partnerships. In a world where the boundaries of entertainment continue to blur, Post Malone's $2 million acquisition of the 1/1 Lord of the Rings Magic: The Gathering card serves as a poignant reminder that magic thrives in the most unforeseen corners.