Ronald Acuna Jr.: A Glimpse into the Meteoric Rise of Baseball's New Sensation
Posted: September 26, 2023, 4:48 pm
by bionic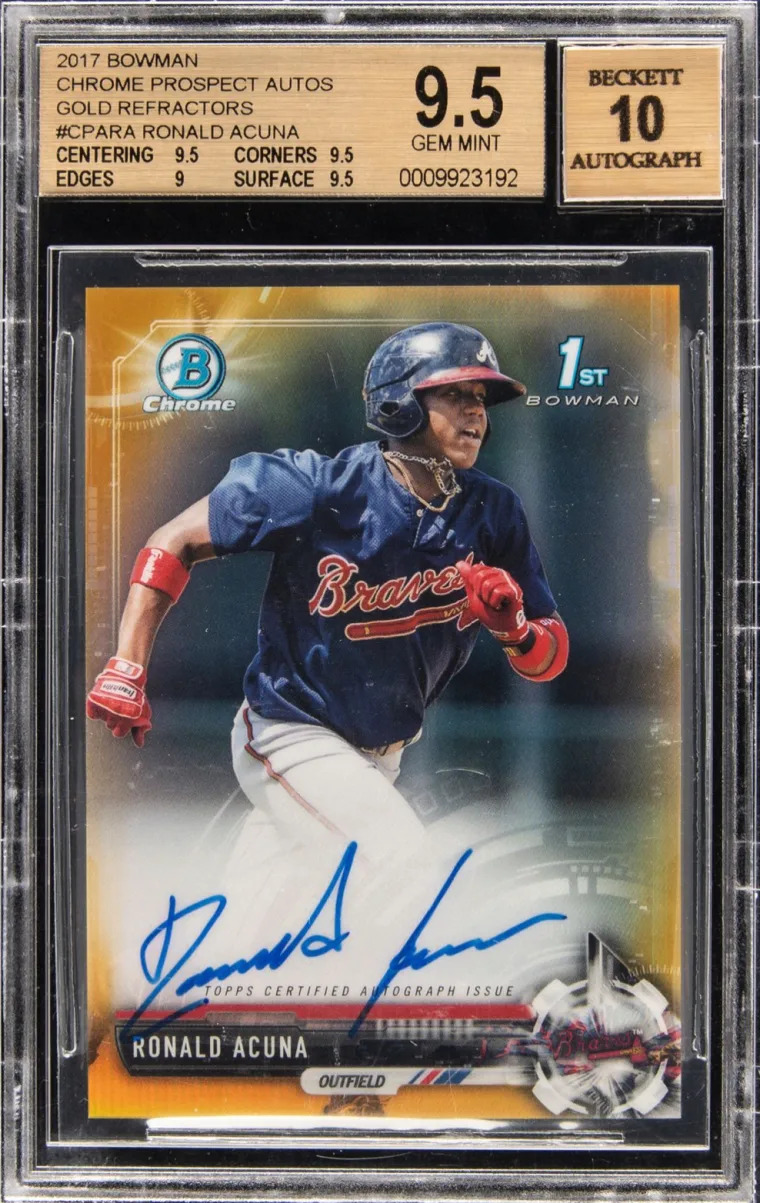 Ronald Acuna Jr. is not just another name in the baseball fraternity. The 25-year-old is scripting history with every swing, every home run, and every stolen base. As the 2023 season has unfolded, he has become synonymous with unparalleled excellence in the sport, deserving nothing short of an A+ for his staggering performance.

Representing the Atlanta Braves as their star outfielder, Acuna Jr. is paving his way towards records that many can only dream of achieving. With mere days remaining in the regular season, his spectacular trajectory indicates he's on the brink of finishing with a formidable 40 homers, an impressive 140 runs, and over 100 RBI. These figures are not just numbers; they're a testament to Acuna Jr.'s unmatched dedication, commitment, and talent.

His potential accolades for this season don't stop there. He is anticipated to surpass 210 hits, thereby leading the majors. His agility on the field is further pronounced as he's projected to cross an astounding 70 steals. Acuna Jr. is not just on the cusp of creating records but also breaking them. He is set to become the first player in Major League Baseball history to claim both 40 homers and 70 steals in a single season. Furthermore, his batting average is expected to touch .340, which would shatter his previous best by approximately 50 points.

Considering he's only 25, this prowess on the baseball field is merely the tip of the iceberg. The best years of his career are arguably still ahead of him. Given his precocious talent and unmatched records, the world of sports collectibles and memorabilia has witnessed a veritable Acuna-mania.

The appetite for Acuna's memorabilia is ravenous. His 2017 Bowman Chrome rookie card is akin to the Holy Grail for collectors, and its demand has surged exponentially. A particular Refractor version of this card, one among a limited edition of 50 and with a BGS 9.5 grade, was recently sold on eBay. It attracted a staggering 36 bids and fetched a final price of $15,100. And if Acuna Jr. continues his stellar form into the playoffs, the valuation of such cards is only predicted to soar.

For those wondering about the craze surrounding Acuna's memorabilia, here's a brief overview of recent transactions:

A signed, unique 2018 Bowman Chrome Superfractor, rated BGS 9.5, clinched a price of $12,226 after a competitive 58-bid battle.
An autographed 2018 Topps Chrome Gold Refractor jersey-patch card, one of only 50 in existence and graded PSA 10, changed hands for $7,800.
A signed 2018 Topps Chrome Shimmering Orange Refractor, again a limited edition with only 25 in circulation and graded PSA 10, garnered a significant $6,855.
A 2017 Topps Heritage "Real One" minor-league card, crafted in the classic 1968 Topps design and showcasing Acuna with the Florida Fire Frogs, procured $4,859.
But one piece stands out from the rest – a 2018 Topps Now card, signed by both Ronald Acuna Jr. and the equally talented Shohei Ohtani. With only 99 of its kind, this card was eagerly snapped up for a handsome $5,300 after 60 bids.

With around 80,000 Acuna-related listings on eBay, the surge in demand is palpable. Astoundingly, in the past quarter, not a single Acuna item was sold for under $20, and no current listings have a starting bid below $15. This truly emphasizes the fact that Ronald Acuna Jr. isn't just another player; he's a phenomenon.

In summation, Acuna Jr. isn't just leaving his mark on the baseball field but also in the hearts of fans and collectors. His trajectory indicates not just the promise of a stellar career but also the formation of a legend. The records he sets, the cards that represent him, and the memories he creates are sure to resonate in baseball's annals for generations to come.