The Rise of Pokémon Cards
Posted: May 26, 2022, 3:55 pm
by bionic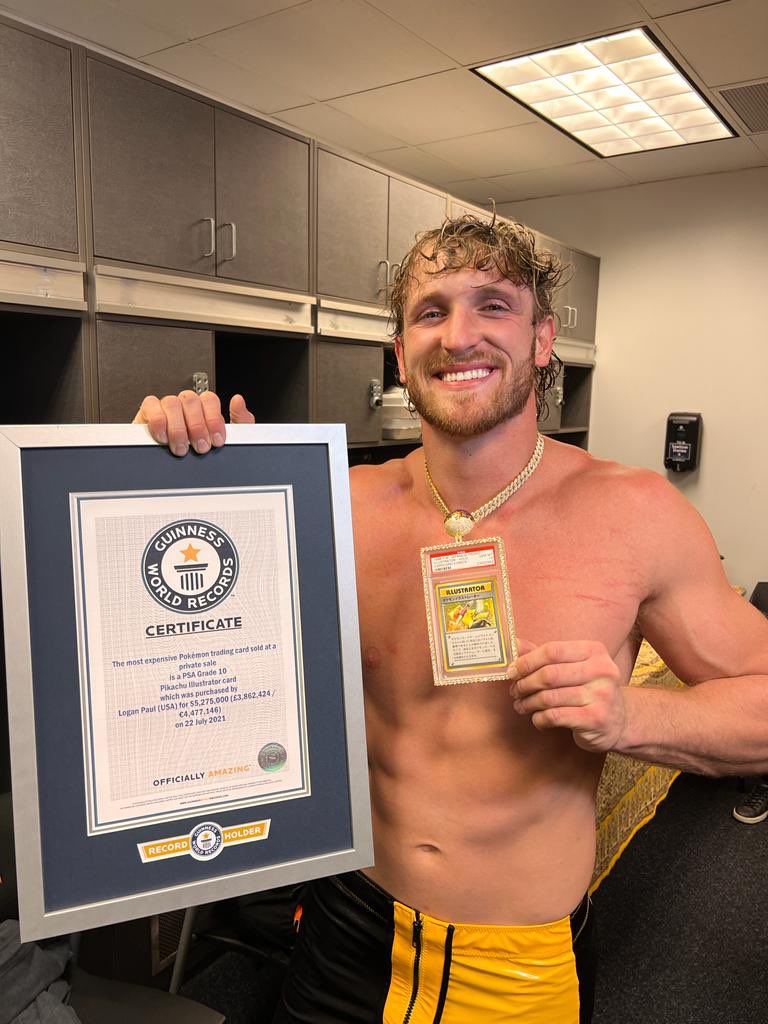 Along came Coronavirus, and suddenly there were millions of people stuck home like it was a prison. Bored out of their minds with nothing to do, curiosity catches the cat and they start wondering about their old hobbies they have as a kid, picking up old Pokémon cards and games! We also have high profile social influencers with the likes of Logan Paul, Jake Paul, Ninja making some very costly purchases with 1st Edition 1999 Charizard Holograms in gem mint slabs selling for upwards of $420,000 during the height of the pandemic. Logan also brought a lot of light to the Pokémon card world, by wearing one as a necklace to his highly publicized fights with Floyd Mayweather Jr., and WWE WrestleMania. Most guys in the ranges of 30-40 years old have a binder of Pokémon cards in their garages still, hoping they hit the jackpot after digging them out only to find out they destroyed them as kids playing with them, which makes the gem mint grades on these so highly desirable and costly these days.

Is the Pokémon craze over? Only time will tell, PSA is still behind on grading and there might be a huge influx of Pokémon cards with high grades pushing the value of the rest of the market down, in a fast fashion. We will have to wait the year out and see how the market plays out, things are down a little bit, but can still be very pricey! At the time of writing this, there are 2 PSA 10 shadowless Charizard 1st edition's on eBay, one asking $450,000 and the other asking $100,000. There is also a PSA 10 Reverse Holo Charizard asking $100,000 on eBay. It's also a very confusing market for those of us who never played or collected Pokémon cards. Alot of these cards were printed multiple times, with multiple editions and different sets featuring the same cards but even other prints can carry high value. If you aren't familiar and find a box of Pokémon cards in your garage, its always good to have an appraisal done by a few different shops. Never trust the first person who see's them, do yourself a favor and get multiple opinions.

The most expensive Pokémon card to date is the 1999 Illustrator CoroCoro Comics Promo in a PSA 10 slab, assumed to be worth $6,000,000 after Logan wore it around his neck during his walkout on WrestleMania. These cards were hovering around the $200,000 price point for the last 6 or 7 years, with the record being $900,000 for a PSA 10, the record was burst during an auction and fetching the $6,000,000 sale. It's estimated that there is only 20 of these cards still in existence , making it the most rarest, valuable Pokémon card. The Japanese card features Pikachu artwork with Japanese lettering.

There is also another rare set that isn't considered part of the card game, manufactured in 1995, but didn't hit Japan's shelves until 1997. Manufactured by a company called Topsun, the cards were distributed with packs of gum featuring a blue back. A Charizard PSA 10 example sold at Goldin auctions for $493,000 in January of 2021.

What are your thought's on the Pokémon craze? Did you go hunting for your binder in your garage? Did you call your mom asking if she threw them away? Let us know in the comments!