Timeless Legends Grace PWCC's Premier Auction
Posted: September 20, 2023, 10:26 am
by bionic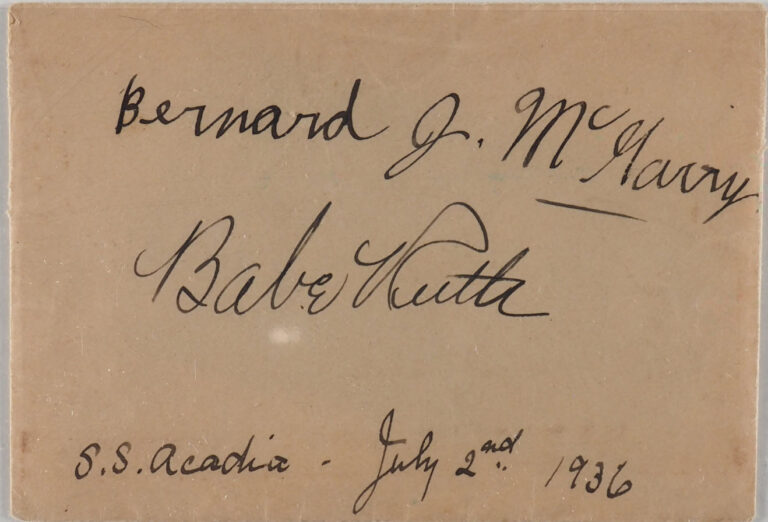 When sport meets art, the result is often a collector's dream. PWCC's September Vintage Premier Auction perfectly encapsulates this intersection, albeit with a limited collection. However, the items on display are nothing short of illustrious, each echoing tales from the golden era of sports.

One can almost hear the crack of the bat and the cheers from the stands when looking at the rookie cards of luminaries like Mickey Mantle, Willie Mays, Hank Aaron, Bill Russell, and Wayne Gretzky. Add to that mix multiple artifacts from the legendary Babe Ruth, and you have a collection that transcends mere trading cards to become conduits of history.

Consider the pristine SGC 8 (NM/MT) 1953 Topps Willie Mays. This card, a beacon from Mays' early career, is a treasure among treasures. With only a handful of its kind ranking higher on SGC's esteemed list, its allure is undeniable. Similarly, the Mays rookie card, holding a PSA 6 grading, is a testament to the bygone era of baseball.

But the true pièce de résistance of this auction might be the Babe Ruth artifacts. One such memorabilia traces back to 1936 during Ruth's voyage to Nova Scotia. Authenticated by PSA, this autographed envelope not only holds Ruth's signature but also tells tales of his participation in a local exhibition match, his camaraderie with fans, and his media interactions.

Yet, that's not the end of the Babe Ruth saga. Another prized possession is the 2001 Upper Deck "Legends of New York" card, boasting the rarer "G.H. Ruth" autograph. Its significance is further magnified by its PSA 10 grade, marking it as an unparalleled collector's item.

Mickey Mantle's cards add further gravitas to the auction. With a PSA 4 edition of his first Topps card from 1952 and a PSA 5.5 version of his 1951 Bowman rookie card, Mantle's legacy lives on in these immaculate pieces.

For those captivated by baseball's storied past, the auction presents the PSA 1 edition of the T206 set's Sherry "Magie" error card. This card is a beacon among the illustrious "Big Four," which includes luminaries like Honus Wagner and Eddie Plank. Additionally, iconic T206 cards featuring Ty Cobb and Christy Mathewson further enrich the collection.

Basketball's rich tapestry is also well-represented, with Michael Jordan's 1986-87 Fleer rookie card leading the charge. Being one of the 537 BGS 9.5 copies, it sits comfortably among the elite, with a scarce few surpassing its grade. A PSA 9 version of the same card, accompanied by a PSA 7 1957-58 Topps Bill Russell and a BVG 9.5 1980-81 Topps card showcasing Magic Johnson and Larry Bird, forms a trifecta of basketball glory.

Hockey fans will rejoice at the inclusion of Wayne Gretzky's 1979-80 rookie card, an O-Pee-Chee edition that mirrors its Topps counterpart in terms of rarity and appeal.

Football aficionados are in for a treat with the 1971 Topps "Mean Joe" Greene rookie card, rated PSA 9, standing as one of the finest in a notoriously condition-sensitive set.

The world of F1 racing speeds into the scene with the inclusion of Juan Fangio's card from the expansive 1951 Editrice Didasco Albosport series. Fangio, the five-time F1 champion, shines in this set, and the PSA 6 card up for auction is a testament to his racing legacy.

With the auction curtain set to fall on September 28th, starting at 7 p.m. PT, collectors and enthusiasts will be vying for these pieces of sports history, each echoing tales of triumphs, trials, and timeless legends.