Unwrapping the Excitement: The 2022-23 Panini Prizm Basketball Collection
Posted: April 6, 2023, 10:24 pm
by admin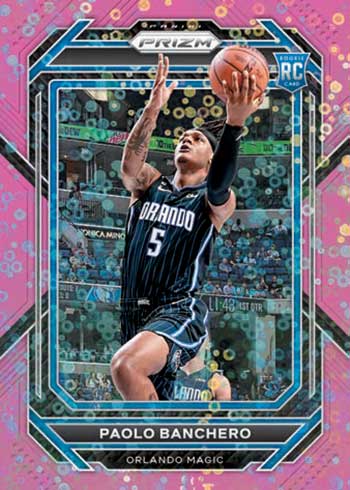 Basketball fans and card collectors, it's that time of the year again! The highly anticipated 2022-23 Panini Prizm Basketball collection is due to hit the shelves on April 12th, 2023, promising to deliver a fresh wave of excitement for enthusiasts across the globe. This latest edition of the iconic series offers a dazzling array of prismatic cards, featuring stunning designs and a star-studded lineup of NBA players. In this blog post, we'll take a closer look at the highlights of the 2022-23 collection, as well as the key rookie cards and exclusive parallels that you should keep an eye out for. So, buckle up and get ready to dive into the world of Panini Prizm Basketball!


The Rookie Class​
The 2022-23 NBA rookie class is packed with talent, and the Panini Prizm Basketball collection offers collectors a chance to grab some of their first cards. This year's top rookies include Paulo Banchero, Jalen Williams, Walker Kessler, Jaden Ivey, Benedict Mathurin, each bringing their unique skills and style to the court. Be on the lookout for their Silver Prizm cards, as these tend to be the most coveted among collectors.
The Parallels​
One of the most exciting aspects of the Panini Prizm Basketball series is the extensive range of parallel cards. The 2022-23 edition is no exception, boasting a diverse array of parallels, including the classic Silver, Green, Red, Blue, and Purple Prizms. Additionally, collectors will find the highly sought-after Mojo, Hyper, and Gold Vinyl Prizms, with print runs limited to just 25, 10, and 1, respectively. These rare cards are sure to be the crown jewels of any collection.
​
The 2022-23 Panini Prizm Basketball collection features a wide variety of insert sets that showcase some of the NBA's top players in action. Some popular insert sets include Fireworks, Widescreen, and Downtown Bound, offering collectors a chance to enjoy stunning action shots of their favorite stars. The Signatures and Rookie Signatures sets, on the other hand, provide the opportunity to own a piece of NBA history with autographed cards from both established legends and up-and-coming rookies.
The Retail Exclusives As with previous years, the 2022-23 Panini Prizm Basketball collection offers a range of retail-exclusive parallels and inserts. These special cards can only be found in retail packs, making them even more desirable for collectors. Key retail-exclusive parallels include the Red Ice, Blue Ice, and Pink Pulsar Prizms, while the Emergent, Instant Impact, and Dominance insert sets offer a unique glimpse into the skills and prowess of the NBA's brightest stars.
The 2022-23 Panini Prizm Basketball collection is set to be a memorable one, with a talented rookie class, stunning parallels, and a variety of captivating inserts. As fans and collectors continue to hunt for these treasured cards, the excitement surrounding the latest edition of this iconic series is only set to grow. Whether you're a seasoned collector or a basketball enthusiast looking to start a new hobby, the 2022-23 Panini Prizm Basketball collection offers a thrilling experience that's not to be missed. Happy collecting!