When NBA's Next Big Thing Met His Biggest Fans!
Posted: September 26, 2023, 5:09 pm
by bionic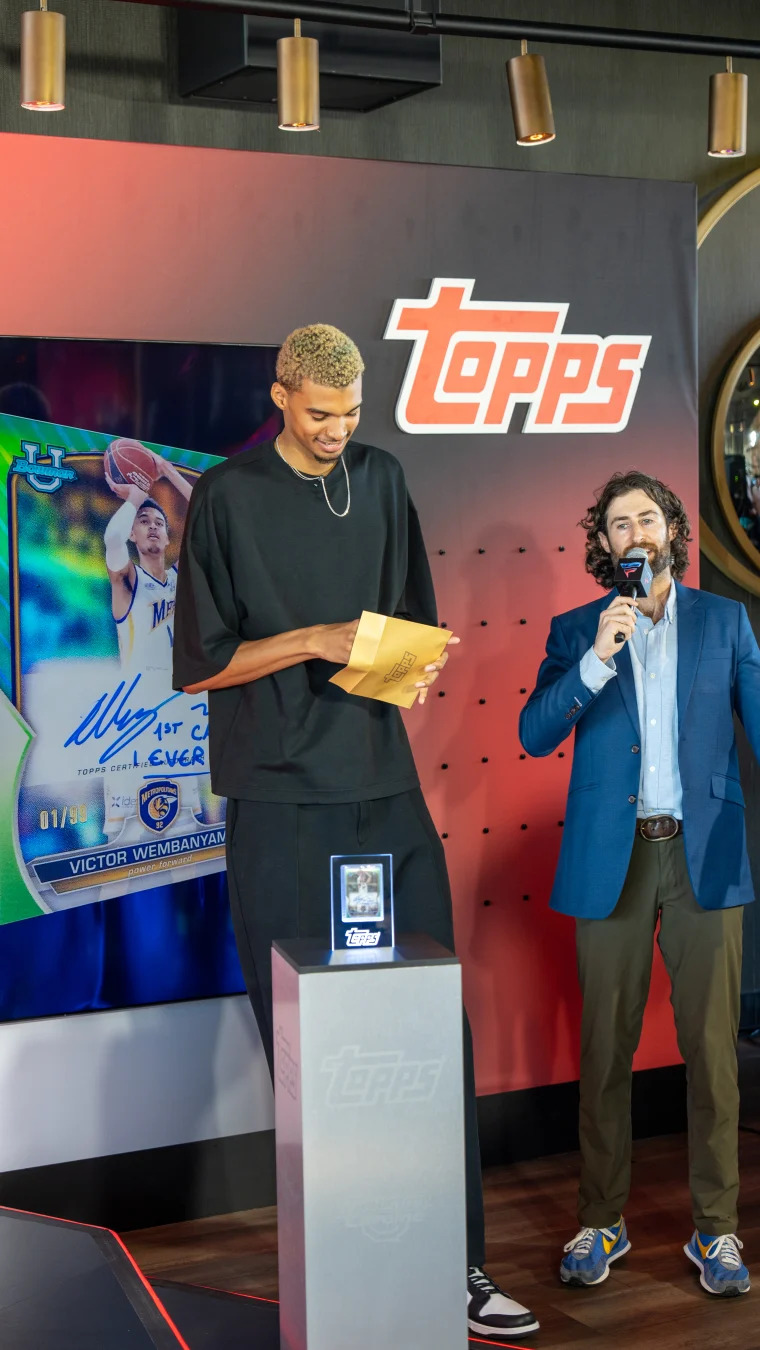 On a rather ordinary day of September 23, a select group of basketball enthusiasts had their ordinary turned into extraordinary. They were, after all, about to rub shoulders with the NBA's next sensation. Imagine redeeming a trading card and ending up in the same room as the future legend depicted on it. Well, for a few fortunate Topps collectors, this fantasy became reality. The culprit behind this delightful twist? The exclusive 2022-23 Bowman U Chrome Victor Wembanyama Green Parallel Auto redemption card.

Victor Wembanyama, the name that's been echoing in basketball courts and buzzing in collectors' ears, was waiting to meet them. Standing at a towering 7 feet 4 inches, this center from France is no ordinary player. The San Antonio Spurs knew this when they marked him as the first overall pick, ensuring that their team would bask in the talent of this basketball prodigy. Words like 'generational talent' are often thrown around, but with Wembanyama, they stick, and for good reason.

With all the promise and potential he brings to the court, it's no wonder that Fanatics Collectibles and Topps wanted to celebrate him in a grand style. But instead of the traditional jamborees, they decided to gift a unique fan experience, aiming to shorten the distance between the star and the star-struck. San Antonio played host to this grand event, witnessing eligible collectors, who had redeemed their prized Bowman U Chrome Green Parallel redemption cards by September 8, gather in anticipation.

The reward for these special collectors? A golden opportunity to stand alongside Wembanyama and win a trading card. But this wasn't just any trading card. It was embossed with an inscription that read, "1st card I ever signed." Talk about making history! Owning a rookie card is one thing, but having one with such a unique autograph, directly from the towering talent, is on a whole different level.

The air was charged with excitement, and the atmosphere hummed with anticipation. As the collectors settled in, a live interview with Wembanyama kicked off. The fans hung on to every word, as insights, anecdotes, and basketball dreams flowed from the future NBA star. Following the engaging conversation, the attendees were treated to an intimate meet-and-greet. The lucky Topps Auto redemption cardholders, their hands probably trembling a tad, presented their cards and conversed with the very athlete adorning them.

But what about the Wembanyama admirers who couldn't make it to San Antonio? Were they left to battle their FOMO? Not in the least! Fanatics ensured that the magic was not limited to the physical venue. The entire event was streamed on Fanatics Live, the brand's spanking new live-streaming platform, allowing fans from all over to partake in the experience. Every dribble of conversation, every chuckle, every signing moment was broadcasted, ensuring that miles didn't hinder the experience.

This groundbreaking event was not just about celebrating an emerging basketball star. It was about redefining fan experiences. Fanatics Collectibles showcased their ambition with this endeavor, signaling their intent to keep pioneering unique fan experiences. This gathering wasn't just a one-off event but a testament to what fans can expect in the future: more closeness, more interactions, and more memories with their favorite athletes.

In the world of sports, where athletes often seem like distant celestial bodies, such events become bridges. Bridges that allow fans to walk over and understand the person behind the persona, the story behind the statistics, and the human behind the highlights.

To sum it up, September 23 was not just another day for a handful of Topps collectors. It was the day they met Victor Wembanyama, the rising NBA star. A day of stories, signatures, and a slam dunk of an experience.