Wilt Chamberlain's Historic 100 Point Game Stub Up for Auction
Posted: November 23, 2022, 5:34 am
by bionic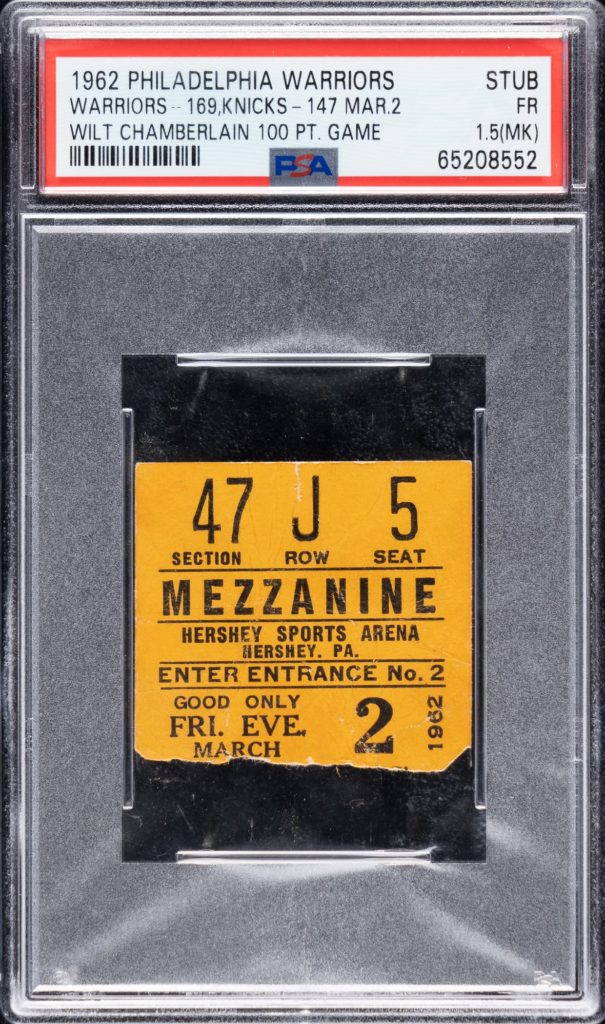 On March 2, 1962, NBA legend Wilt Chamberlain scored an astonishing 100 points in a game against the New York Knicks. It was a record that stood for nearly 46 years until Kobe Bryant scored 81 points in 2006. Now, the game stub from that historic game is up for auction at Robert Ward Auctions.

The game stub was found by a man cleaning out his late father's things and initially thought to be worthless. He was going to throw it away but took it to Robert Ward Auctions to get a second opinion. After doing some research, they discovered that the stub could be worth upwards of $50,000. There is said to only be five known examples of the ticket.

The auction is taking place now and will also feature other rare sports memorabilia, including a baseball signed by Babe Ruth and a football signed by Jim Thorpe.

You can bid on the 100 Point Game Ticket Stub Here

What Made The 100 Point Game So Special?
In addition to being an incredible feat in and of itself, the 100 point game was special because it underscored Chamberlain's dominance as a player. At 7'1", he was one of the tallest players in the league and used his size to his advantage. He would often post up smaller defenders and score easily over them. In addition to his size, Chamberlain was also extremely athletic and had a soft touch around the basket, making him nearly impossible to stop.

How Has The Record Stood The Test Of Time?
While there have been many great players since Chamberlain retired in 1973, none have come close to matching his 100 point game. In 2006, Kobe Bryant came the closest when he scored 81 points against the Toronto Raptors. LeBron James has also come close on multiple occasions, including a 61 point performance in 2014 against the Charlotte Hornets.

Bidding for the 100 point game stub is currently at $13,000 at the time of writing and is expected to go for much more when the auction concludes. If you're a fan of basketball history or just want to own a piece of sports memorabilia with real significance, this is definitely an auction you won't want to miss.