2003-04 Lebron James Phenomenal Beginnings Box Set
Posted: July 3, 2022, 5:15 pm
by bionic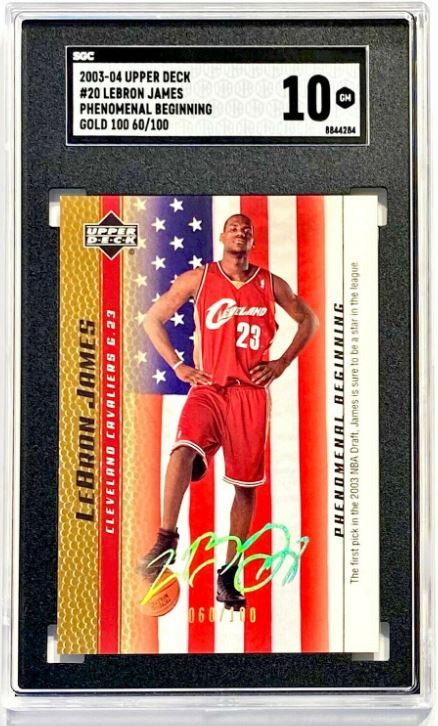 The Lebron James Phenomenal Beginnings Box Set was released by Upper Deck in January of 2004, it featured a 20-card set that was packaged with all cards, numbered 1-20, and one bonus card, the bonus card was either a gold parallel base, a numbered gold parallel with a print run of 100, that featured a facsimile autograph in gold, or an actual autographed card. The original set had a MSRP of only $9.99, and was sold in retailers such as K-Mart, Walmart, Target and Meijer's across the country.

Current sales of the box set currently sell for around $50-100 for sets that have been opened, and around $250-$500 for sets that are still in factory wrapping, comparing this to current box prices, its not so bad considering the chance of pulling an autographed Lebron rookie, or a numbered parallel. All of the images on the cards in the set feature him in NBA cavaliers uniform, with action shots from his rookie season. While we are sure these were produced in massive numbers, it still might be a good set to just have if you are an investor or just a Lebron fan, as we assume when he retires, or picks up a couple more rings it will be sure to shoot up in value.

The numbered parallel's featuring his facsimile autograph gather around $300-400 each on eBay as time of writing this article, while graded example's of these cards are fetching much higher numbers with 9's going up to $3000 (asking), and $5000 for gem mint 10's. Graded base card's even fetch around $75 each, while the price of grading is still high with PSA, you still might be able to churn a few bucks if you think your set could grab a 9 or 10.