An Iconic Card Hits New Heights – 1951 Bowman Mickey Mantle Rookie Card Graded PSA 9 Sold for $3,192,000
Posted: December 10, 2022, 1:41 pm
by bionic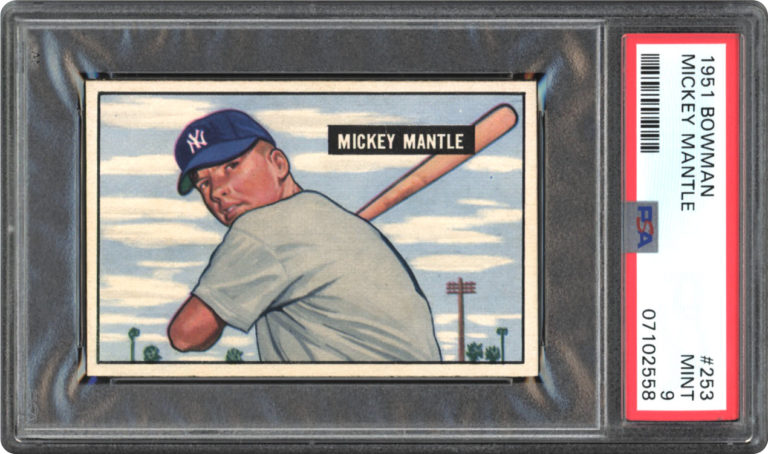 A 1951 Bowman Mickey Mantle rookie card graded PSA 9 sold for a stunning $3,192,000 in Memory Lane's Fall Rarities auction. This is the highest price ever paid for a baseball card with only six other graded cards selling for more than one million dollars. Collectors and sports memorabilia fans alike were thrilled to witness the rare card go to a new home.

The sale of this iconic card set several records as it was not only the most expensive baseball card ever sold but also the most expensive pre-1980 sports memorabilia item. There are only 8 copies of this particular card that have been graded at PSA 9, making them highly sought after by collectors. This sale was the first time a copy had been available at auction since 2018 and it's no surprise that it fetched such an impressive sum given its rarity and pristine condition.

The card was part of a group of 15 vintage Mantle cards consigned by an east coast collector who had spent about the last ten years accumulating some of the best known examples. The group included 14 PSA 9s and a 1953 Topps card that rated 8.5.

The collector who purchased the card is anonymous but they must be ecstatic to have added such a valuable piece to their collection. The record-breaking sale serves as evidence of just how much demand there is for vintage sports memorabilia and why it's still so popular today. It's also a testament to Mickey Mantle's popularity and enduring legacy as one of baseball's greatest players; he is still remembered fondly by generations of fans who grew up watching him play for the Yankees in the 1950s and 1960s.

Memory Lane's Fall Rarities actuion saw a stunning record broken with the sale of a 1951 Bowman Mickey Mantle rookie card graded PSA 9 for $3,192,000 USD, which has quadrupled the last sale price. This iconic piece of sports memorabilia demonstrates just how popular vintage collectibles remain today and serves as testament to Mickey Mantle's legacy in baseball history. With only 8 copies at this grading level in existence, we may never see another sale like this again! For collectors looking to get their hands on some vintage sports memorabilia – now's your chance!