Draymond Green Suspended for Game 3 Following Incident with Sabonis
Posted: April 18, 2023, 9:43 pm
by bionic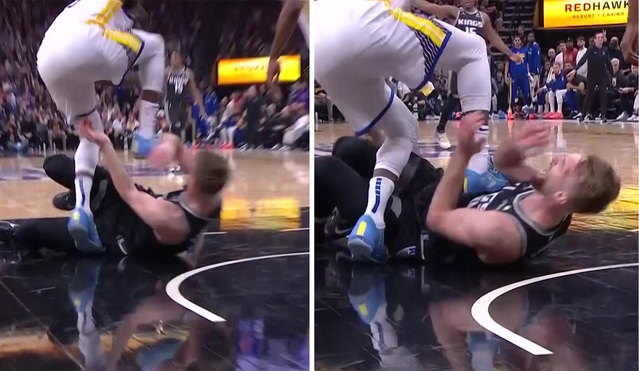 The NBA has announced that Golden State Warriors forward Draymond Green will be suspended for Game 3 of the first-round playoff series against the Sacramento Kings. Green received the suspension due to an altercation involving Kings' center Domantas Sabonis during Game 2 of the series.

During the third quarter of Game 2, Green was seen stomping on Sabonis' stomach in what appeared to be a deliberate act, albiet Sabonis did however grab Green's ankle during the tie-up, it may have just been Green trying to prevent himself from falling, even though it was a dirty play, it does have its merit's as well. The incident occurred after a physical box-out between the two players, which led to some heated exchanges. While the referees did initially call a just a technical foul on the play, the league reviewed the footage after the game and decided to take action.

NBA Commissioner Adam Silver issued a statement regarding the suspension, saying, "Player safety is of utmost importance, and the NBA will not tolerate acts of violence on the court. Draymond Green's actions in Game 2 were unacceptable, and as a result, he will be suspended for the next game in the series."

This is not the first time Green has faced disciplinary action from the league. The Warriors' star has a history of on-court altercations and has previously been suspended for various incidents, including a high-profile suspension during the 2016 NBA Finals.

Green's absence in Game 3 is expected to have a significant impact on the Warriors, as he is an essential part of their defensive strategy and playmaking abilities. Without him on the court, Golden State will need to rely heavily on Stephen Curry and Klay Thompson, as well as other role players, to step up and fill the void.

The Kings, on the other hand, will look to take advantage of Green's suspension and capitalize on the opportunity to secure a victory in Game 3. Led by De'Aaron Fox and Domantas Sabonis, Sacramento has shown flashes of brilliance in the series and will be eager to prove themselves as legitimate playoff contenders.

Game 3 is set to take place on Thursday, April 20th, in San Francisco at the Chase Center. The kings are currently in the lead in the series at a 2-0 advantage, and the outcome of the next game could be pivotal in determining which team gains the upper hand in the highly competitive first-round matchup.