Fernando Tatis Jr Suspended For 80 Games
Posted: August 16, 2022, 3:00 am
by bionic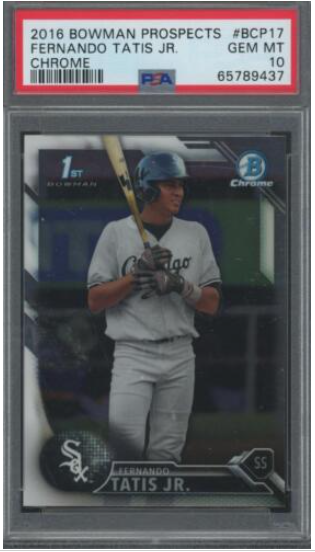 Disappointment after disappointment for Padres fan's.. First it was the off-season motorcycle incident that led to 4 months of down time, now he faces an 80 game suspension for failing a drug test and testing positive for using a banned substance. The substance in question is called Clostebol, which is an anabolic steroid. Tatis Jr states that this was done accidentally while taking a medication to treat ring-worm. He will not return until the second month of the 2023 MLB season, with a remaining 46 games this season. Before the beginning of the 2021 season, Tatis Jr signed a 14 year, $340 Million dollar contract with the Padres. The penalty he will pay out in total for the suspension is $2.97 Million.

When Tatis Jr. returns to play, he will still only be 24 years old.. However, the question now looms if he will still have that power behind the bat that he had while (questionably) using steroids. Sports Card Investors have poured over $12 million dollars into his sports cards in the last year alone. Last week Goldin auctions sold a BGS 9.5 2016 Bowman Chrome Orange for an astounding $54,000. PWCC Marketplace has auctioned 16 of his prospect and rookie cards for $30,000 or more including three cards between $117,000 and $144,000 (a 2016 Bowman Chrome Prospect Autographs Orange Refractor graded PSA 10 sold in April).

So what can the card world expect? Well naturally investors will get angry and start dumping his trading cards at a discounted rate, while others may see this as a time to buy at a sale price, as of right now we are noticing around a 5%-15% dip on a 7 day average, depending on the card. Are you holding any Tatis Jr. at the moment? What are your plans? I personally believe in a month or two when things crash a bit more, I will start to load up on what I can, I think he is one of baseball's truly young power hitters and will be for many more years to come.

It was stated that the owner of the one of one 2016 Bowman Chrome Superfractor Autograph was offered $2 million dollars for it in September of 2021, and turned it down. While this might end up being a decision he wish he had chose differently, it may end up paying out in the long run.. But if the money's on the table, specially 7 figures, I don't think I would have hesitated for even just 2 seconds to shake the mans hand. This will negatively impact his cards for the time being, we only know what has sold so far, what about cards that have not been slabbed yet, or are in personal collections, and even unopened product. Those collectors who buy cases and let it sit in the garage for 20 years are surely disappointed by this young man's decisions. We can only hope at this point that he has learned his lesson, and will continue on a righteous path from this point on, and realize it's not only about him at this point.