The Auction Block Awaits a Babe Ruth Rarity: 1914 Card May Garner Eight Figures
Posted: November 17, 2023, 2:37 am
by bionic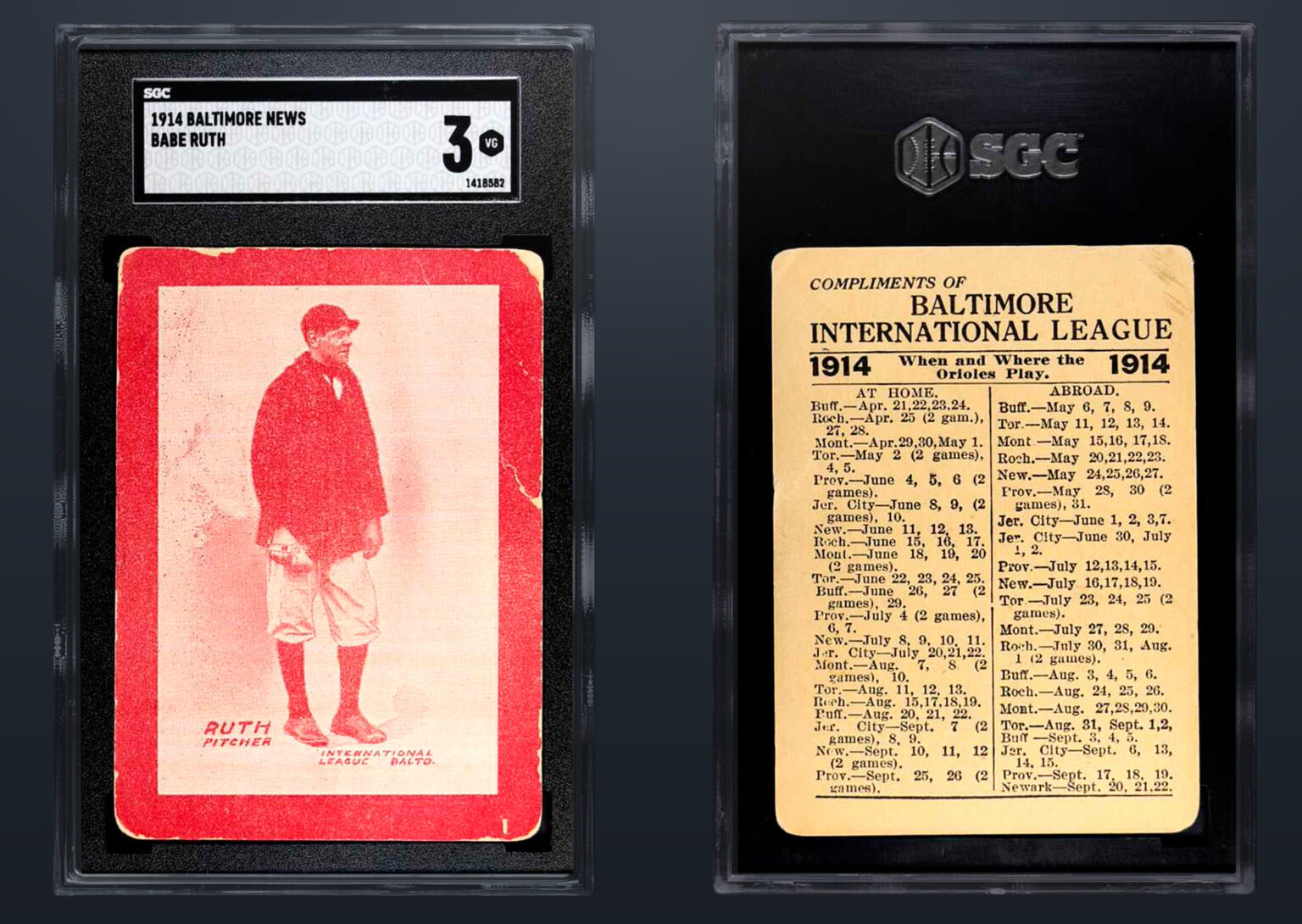 In an event that could resonate as profoundly in the world of sports collectibles as the crack of Babe Ruth's bat did in baseball stadiums, a card from 1914 featuring the Bambino is about to be presented to the public by Robert Edward Auctions (REA). This card, a scarcity in the realm of baseball memorabilia, could command upwards of $10 million when it hits the auction scene this month.

REA's Fall Catalog Auction, which is set to commence on November 17, will be the stage for this rare offering—a 1914 Baltimore News Babe Ruth card. Graded SGC 3 (VG), it boasts an image of a young, 19-year-old Ruth, at that time a minor league player with the Baltimore Orioles. The card, measuring 2 5/8" by 3 5/8", is part of a set that featured player portraits on the front and the team's schedule on the reverse.

Not only is it a noteworthy moment because it's been over a decade since a 1914 Baltimore News Ruth card has been up for public sale, but this particular card is also distinguished as the finest to be auctioned in the past fifteen years.

"The Baltimore News Babe Ruth rookie card is the cornerstone of baseball card collecting," proclaimed Brian Dwyer, President of REA. "It embodies the origin of Babe Ruth, who is more than a baseball legend; he's an American icon. This card's rarity places it among the most coveted collectibles from any genre within the United States."

According to the SGC Population Report, this card is the highest-graded example of its kind, with only one other card—a PSA 4—surpassing it in the hierarchy of collectibles.

The card's history is as rich as Babe Ruth's own legacy. In 2021, a private collector in Florida acquired it for a cool $6 million. Following the purchase, a portion of the card's ownership was offered through Collectable, a fractional shares platform, but this was liquidated in early 2023.

Before its sale earlier this decade, this piece of baseball heritage had been kept in a Baltimore family for over a century. Displayed at the Babe Ruth Birthplace and Museum from 1998 until recently, the card will once again be available for public viewing. REA has arranged a display, alongside another blue variant of the card, on November 15 from 2-4 PM. Further, REA is organizing private viewings for a select number of guests, both on the evening of November 15 and at a private event in New York City on November 29.

This significant Babe Ruth card will headline an expansive 4,000-lot auction that will span from November 17 to December 3. Reflecting on the evolution of the market for rare sports cards, one is reminded of the $450,000 fetched by a PSA 1 example at an REA auction in 2012. Yet, in a market that has seen explosive growth, evidenced by the $12.6 million sale of an SGC 9.5 1952 Topps Mickey Mantle card in 2022, expectations for the Ruth card's final hammer price are high.

"This card is the holy grail for collectors," Dwyer enthused. "Its extreme rarity means that those fortunate enough to own one are seldom willing to part with it. This may be the only chance to acquire such a card for potentially years to come."

The upcoming auction presents an extraordinary opportunity for collectors to bid on a card that is not just a collector's item but a symbol of Babe Ruth's indelible mark on American culture. As the auction date draws near, anticipation builds within the collecting community for what could be one of the most significant sales in sports memorabilia history.