Victor Wembanyama's Emergence as a Basketball Card Market Phenomenon
Posted: November 17, 2023, 2:13 am
by bionic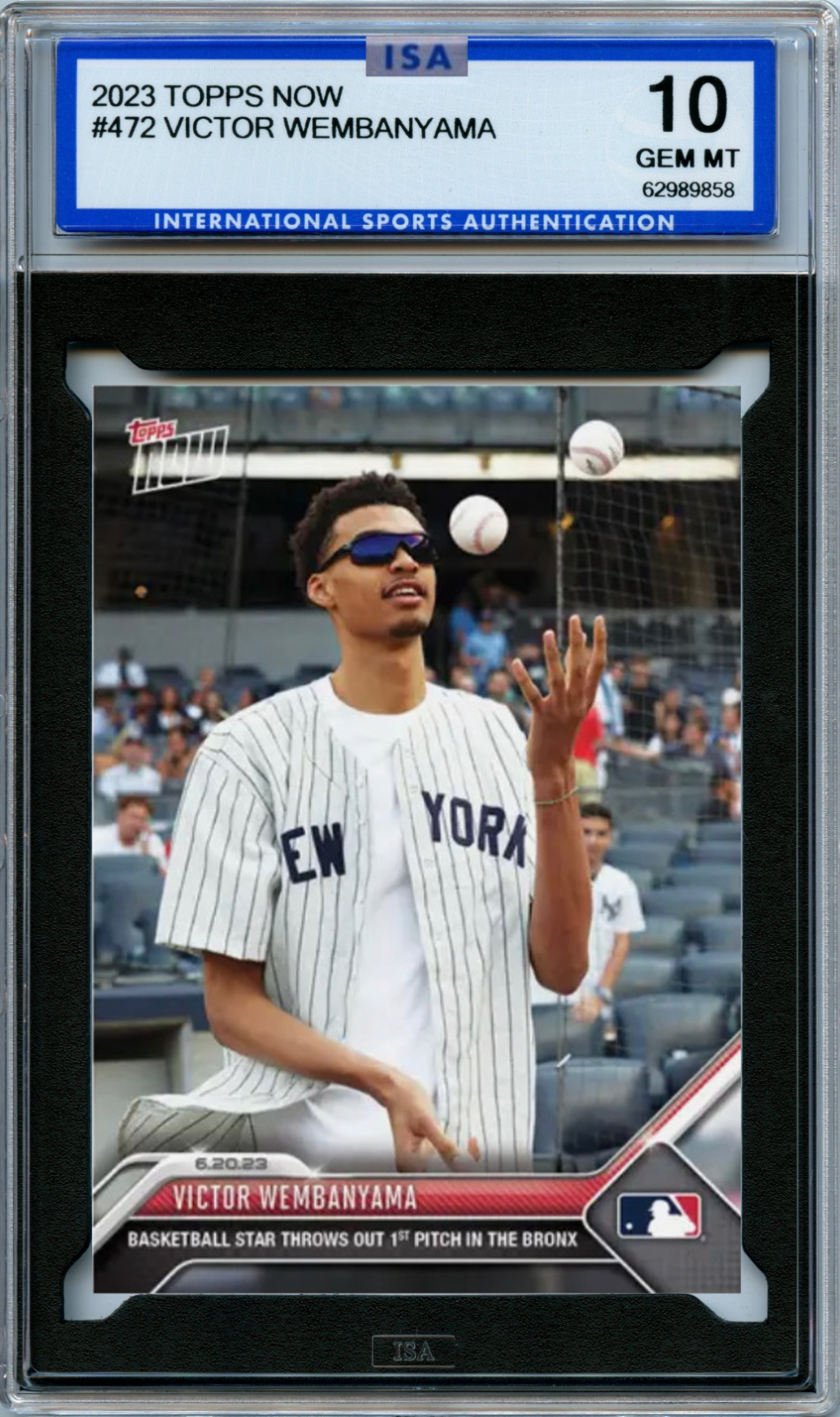 In the fluctuating realm of basketball memorabilia, a new star is redefining the game. Victor Wembanyama, the French basketball sensation, has sparked an unparalleled excitement in the basketball card market, a scene that had seen its share of instability in recent times. With a career that's only just beginning to bud, the release of Wembanyama's cards is not just an event—it's a phenomenon, propelling a market trend that combines the anticipation of draft picks with the immediacy of print-on-demand.

The entry of this 7-foot-4-inch athlete into the professional basketball league has been nothing short of a seismic event for collectors. Wembanyama, affectionately dubbed 'Wemby,' has become the subject of a collector's fervor, with individuals eager to lay claim to a piece of what could be a legendary career. The waves his cards are making in the market are telling of his expected impact on the game.

Since the spring release of his first cards, the numbers speak volumes: over 62,000 Wembanyama rookie cards have been sold on eBay, with total spending surpassing $6.3 million. Of these, eighteen cards have sold for over $10,000 each—a testament to the perceived value of his early memorabilia. This surge has continued with his NBA debut, with sales of more than 27,000 cards in just one month, amounting to over $2.6 million.

The competition between trading card titans to distribute Wembanyama's cards has only fanned the flames. Notable among the high-ticket sales are the 2022-23 Bowman Chrome University Red Refractor redemption cards—one of which fetched an early $20,000 in August. Additionally, a PSA 10 Gold Refractor autograph from the 2022 Bowman U series, limited to just 50, went for a cool $15,850.

Tracing back over the last two years, Wembanyama's journey has been whirlwind-like, drawing parallels to the excitement LeBron James generated two decades ago. His basketball odyssey commenced at 15 in France, where his towering presence and skill set immediately captivated audiences. His shot-blocking prowess, nimble footwork, and unexpected shooting range for someone of his stature quickly marked him as a player to watch.

Wembanyama's ascent through France's professional ranks culminated in an exhibition against the G League's Ignite team, where he tallied 73 points over two games. Following a season with Metropolitans 92, the NBA beckoned, and the San Antonio Spurs welcomed him after their draft lottery victory.

On the court, Wembanyama represents a synthesis of traditional and contemporary basketball. His skill in the paint echoes the greats of yesteryear, while his proficiency from beyond the arc signals a modern-era player. This combination of inside dominance and perimeter agility makes him a complex puzzle for opposing teams. His mix of talents allows for dual roles—a dominant center and a formidable stretch forward.

Further underscoring his talents is Wembanyama's basketball IQ. His astute understanding of the game's dynamics, his preemptive reading of plays, and his decision-making under duress showcase a maturity beyond his years. His playmaking, evidenced by his adept passing, confirms his expansive vision of the court.

His statistics already mirror those of basketball legends; Wembanyama is one of only three teenagers to have recorded a 35+ point, 10+ rebound, and 2+ block game—a feat shared only with Kevin Durant and LeBron James.

Despite the lack of a rookie card featuring Wemby in a Spurs jersey, his collegiate and other unlicensed cards continue to command the market's attention.

The 2022 Bowman University Inception provided collectors with their first opportunity to obtain a Wembanyama card. As a redemption card without a base card in the set, it's likely to be one of the rarer items in the Wembanyama collection, commanding a significant price, especially in its serial-numbered iterations.

The 2022 Bowman University Chrome series introduced Wemby's first base card and chrome autograph—another redemption. Despite a somewhat subdued finish compared to typical chrome cards, the '1st Bowman' tag guarantees its continued value, with collectors quick to send these cards for grading.

The 2022 Bowman University Best was the first to feature Wembanyama's widely available non-shortprinted base card and his first live autograph, albeit via sticker. In these, he's depicted in his Metropolitans 92 uniform.

The print-on-demand sphere has also embraced Wemby's growing legacy. Topps Now has released a couple of limited-time Wembanyama NOW cards—one featuring him in his draft day attire and another commemorating his first pitch at a New York Yankees game. The latter includes a jersey relic version numbered to 499 or fewer. Panini Instant offered the first glimpse of Wembanyama in Spurs attire, available for a brief window on their website. As Panini holds the NBA license, they will produce licensed Wembanyama cards throughout the year, though his autographs will remain exclusive to Topps due to a separate deal.

Allen & Ginter, known for its eclectic yearly sets, surprised collectors with Wembanyama cards in 2023. Here, he graces base cards, parallels, and autographs—though with a generic image due to licensing restrictions. The plentiful supply has kept prices within reach for most enthusiasts.

As the basketball card market rides the Wembanyama wave, collectors and investors alike are witnessing a historical moment. The young Frenchman's entry into the NBA is not just a career milestone; it's a transformative event for an entire industry. His cards are more than memorabilia—they are tangible representations of a burgeoning legacy and the excitement it carries into the future.