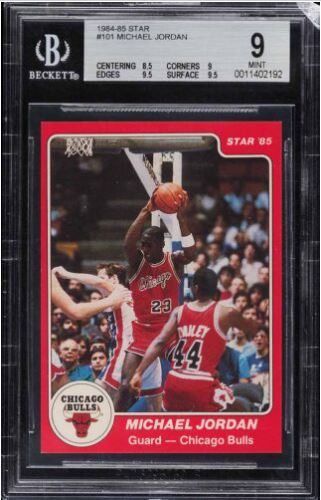 PSA has recently announced it will resume grading of the 1984-85 Star #101 Jordan Rookie card. Many Jordan collectors consider this to be his true rookie card, but was only available directly through hobby dealer's and mail in order team sets of the Chicago Bulls cards. Although it was an officially an NBA licensed product, many stamp it with an asterisk and don't consider it his true rookie card due to the limited print run, and the means of attaining the card. PSA stopped grading these cards in the 1990's due to them going out of business, and the CEO of star started re-printing cards and labeling them with the original date, and then selling them on home shopping channels, and since then the only grading companies who offered the services on grading these cards were Beckett (BGS) and GAI, who also graded the Chicago Bulls Star Team Bags.
Other notable rookie's from this set include Hakeem Olajuwon, John Stockton and Charles Barkley. PSA have said they only have a handful of graders who are trained and capable of authenticating cards from the 1984-85 set, and ensure your cards will be directed to them to ensure their authenticity. PSA is using cards taken directly from sealed team bags as a sample prototype to help with authenticating, and they may offer the ability to have your team bags graded in the future.
Nat Turner, who himself is a basketball card collector and acquired the PSA company for $700 million dollars in November of 2020 has helped push the availability to grade the Star cards once again, as many collectors over the years have pushed, PSA only collectors will now have that ability to add one of the holy grail's of modern times to their collection.
Now this brings us back to the taunting question again of what is Michael Jordan's TRUE rookie card? Do you believe the 1986-87 Fleer Basketball #57 Michael Jordan, or the 1984-85 Star #101 Michael Jordan is his true rookie card, and why do you consider one or the other the true rookie?
For me personally, I have always considered the 1984-85 Star #101 Michael Jordan his true rookie card, because it was the first card to come out after him being drafted, and it was an officially licensed product and there is no reason to discount the card, no matter how the means of getting one was. In my opinion the people in charge of running auction houses will continue to push the 1986-87 Fleer #57 Michael Jordan as his true rookie card because there is an abundance of them, and they want to keep the final sales figures in the 6 digit range on gem examples. Also many will argue due to the picture of Michael Jordan flying through the air mid dunk also has a better eye-appeal making it a more iconic card, it doesn't change the fact that Michael Jordan was drafted in 1984, and the Star card was released before the Fleer card. There are also many other cards with this same question, with the most famous being the 1951 Bowman Mickey Mantle, and the 1952 Topps Mickey Mantle.
With the quality of the Star set, will we see any PSA 10's hit the population report? Most of the Star cards from that set have horrible centering issues, miscut's and surface issues. Will the value of a 1984-85 Star #101 Michael Jordan in a PSA 10 slab surpass the value of a 1986-87 Fleer #57 Jordan in a PSA 10 Slab? How many holder's of the card currently sitting in a BGS slab will crossover to PSA? Will the grade's that Beckett gave the cards hold true to a PSA holder? Many of the slabs in 8-8.5 BGS holders may ultimately come back in a PSA 7 slab. This will be super interesting to watch play out.
PSA will not be doing on-site authentication of the Star Cards during the National Convention, but will be taking on-site submissions and will send them back to their headquarters for authentication.
Currently on eBay, here are the offerings:
BGS 8.5 1984-85 Star #101 Michael Jordan - Asking Price $1,000,000 Or Best Offer
Sealed Team Bag With Michael Jordan on Top - Asking Price $1,000,000 or Best Offer
GAI 9 1984-85 Star #101 Michael Jordan - Asking Price $799,995.00 or Best Offer
BGS 9 1984-85 Star #101 Michael Jordan (With 2 9.5 Sub-Grades)- Asking Price $200,000 or Best Offer
BGS 8.5 1984-85 Star #101 Michael Jordan (With 1 9.5 Sub-Grade) - Asking Price $179,999 or Best Offer
BGS 7.0 1984-85 Star #101 Michael Jordan - Asking Price $22,995 or Best Offer