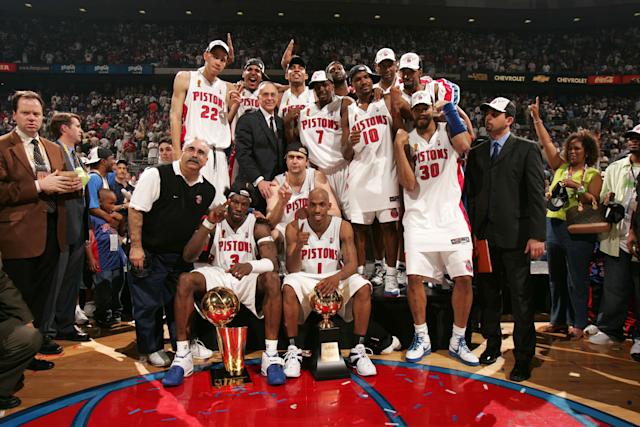 The 2004 Detroit Pistons are the only modern day team to bring home a championship without a Top 75 player of all time.
The 2004 Detroit Pistons line up included:
Starters:
Rasheed Wallace
Ben Wallace
Tayshaun Prince
Chauncy Billups
Richard (Rip) Hamilton
Bench:
Chucky Atkins
Elden Campbell
Hubert Davis
Termaine Fowlkes
Darvin Ham
Lindsey Hunter
Mike James
Darko Milic
Mehmet Okur
Zeljko Rebraca
Bob Sura
Corliss Williamson
With coach Larry Brown, this is truly one of the greatest underdog story's of modern day times. While many consider the Detroit Pistons to be associated with dirty playing, because of the 1980's and 1990's era of rough play, and the leagues face Michael Jordan crying about anything and everything that had to do with the Pistons that really wasn't the case with the 04 team. The Pistons will forever carry on the "Bad Boy" moniker, but the game in general has changed, instead of hard fouling, they are hard flopping.
Many consider Chauncey Billups, Rasheed Wallace, and Big Ben Wallace stars, however the NBA doesn't consider them to fit within the realms of their top 75 list released this year for the NBA's 75th anniversary. You really need to consider today's path of getting a championship is creating a super team with many of today's stars teaming up in 3's and 4's to try and just trample over the rest of the league. You can attest to that by LeBron James failure at doing so with this years Lakers team consisting of Lebron James, Anthony Davis, Russell (Westbrick) Westbrook and not even being able to make it to the playoffs. Something we all thought we would never see with Lebron on the roster. Although the Lakers were plagued with injury's, we're starting to think it wasn't such a great idea to break up the great young core they had for the year of the bubble.
We also can't forget all of the drama that the Indiana Pacers started at The Palace of Auburn Hills, with Ron Artist, Stephen Jackson and Jermaine O'Neal actually heading into the stands and fist fighting with patrons. The infamous night now dubbed as Malice In The Palace, started with a couple of rowdy ignorant fans mad at Ron Artest (Metta World Peace) for getting rough with Ben Wallace, and then going to lay down on the broadcaster table after running away from Ben because he pushed him. The fan threw a cup of beer and zonked Artest right in the head leading to full blown fisticuffs being thrown in the stands. All five Indiana Pacers players for their actions that night received a year of probation, a $250 fine and 60 hours of community service. Till this day, the Malice at the Palace has evoked some new rules for game attendee's including a limit of
2 beers no more than 24 Oz. per person, and no alcohol sales after the end of the 3rd quarter. Also increased security with at least three security guards for each team between
the fans.
The pistons team went to the ECF for the next 4 years as well, with Lebron finally able to take the Pistons out. I personally believe if we would have drafted Carmelo Anthony
in the #2 spot instead of Darko Milic we would have obtained more than just 1 ring for that era as well.. I also believe Carmelo would have became a better team player from
the coaching of Larry brown and Flip Saunders as he wouldn't of always had everything hanging on his shoulders. As Sheed would say, "The Ball Don't Lie".
Here are some great rookie cards from the underappreciated 2004 Detroit Pistons team that every Pistons fan should have in their collection!
1999-00 SPx Richard Hamilton
1997-98 Skybox EX-2001 Chauncey Billups
2002-03 Topps Chrome Tayshaun Prince Refractor Parallel
1996-97 Skybox Z-Force Ben Wallace
1995-96 Topps Finest Rasheed Wallace