Hockey Royalty: McDavid, Gretzky, Lemieux, and Crosby - The Best to Ever Lace 'Em Up
Posted: April 13, 2023, 6:04 pm
by bionic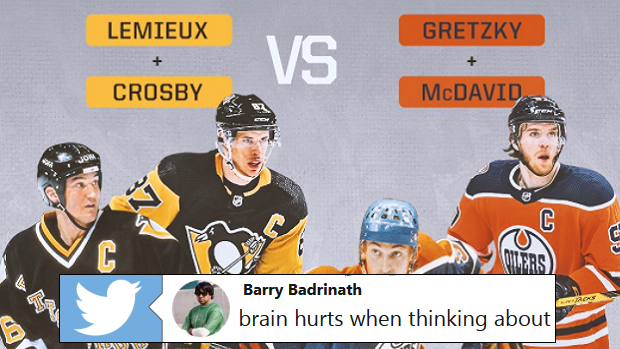 In the pantheon of hockey greatness, four names stand out as the very best to ever play in the National Hockey League (NHL): Connor McDavid, Wayne Gretzky, Mario Lemieux, and Sidney Crosby. Each of these legendary players has left an indelible mark on the sport, setting records, winning championships, and captivating fans with their on-ice brilliance. This article will delve into the careers and accomplishments of these hockey icons, exploring why they are revered as the best in the NHL's storied history.


Wayne Gretzky: The Great One​
Wayne Gretzky is often referred to as "The Great One," and for good reason. During his illustrious 20-year career, Gretzky set numerous records and won multiple championships, solidifying his status as the greatest hockey player of all time. Some of Gretzky's most notable accomplishments include:
Scoring Records: Gretzky is the NHL's all-time leading scorer, with an astounding 2,857 points, including 894 goals and 1,963 assists. He holds the record for the most 100-point seasons (15) and the most consecutive 100-point seasons (13).
Hart Memorial Trophies: Gretzky won the Hart Memorial Trophy, awarded to the league's most valuable player (MVP), a record nine times, including eight consecutive wins from 1980 to 1987.
Stanley Cup Championships: Gretzky led the Edmonton Oilers to four Stanley Cup championships in just five years (1984, 1985, 1987, and 1988) and was awarded the Conn Smythe Trophy as playoff MVP twice (1985 and 1988).
Mario Lemieux: Super Mario​
Mario Lemieux, affectionately known as "Super Mario," was a dominant force in the NHL throughout his career. Despite battling numerous injuries and health issues, Lemieux's skill, size, and scoring touch made him one of the most feared and respected players in the league. His remarkable accomplishments include:
Scoring Prowess: Lemieux ranks 8th on the NHL's all-time scoring list, with 1,723 points, including 690 goals and 1,033 assists, despite playing in significantly fewer games than many of the players ahead of him due to injuries and health problems.
MVP Awards: Lemieux was awarded the Hart Memorial Trophy three times (1988, 1993, and 1996) and earned the Conn Smythe Trophy twice as playoff MVP (1991 and 1992).
Stanley Cup Championships: Lemieux led the Pittsburgh Penguins to back-to-back Stanley Cup championships in 1991 and 1992, solidifying his legacy as one of the game's all-time greats.
Sidney Crosby: Sid the Kid​
Sidney Crosby burst onto the NHL scene in 2005 as the league's most highly-touted prospect in decades. Dubbed "Sid the Kid," Crosby quickly established himself as one of the NHL's premier talents, combining elite skill, vision, and determination. Crosby's impressive list of accomplishments includes:
Scoring Titles: Crosby has won the Art Ross Trophy, awarded to the league's top scorer, twice (2007 and 2014) and has been a consistent offensive force throughout his career.
MVP Awards: Crosby is a two-time Hart Memorial Trophy winner (2007 and 2014) and has earned the Conn Smythe Trophy as playoff MVP twice (2016 and 2017).
Stanley Cup Championships: As the captain of the Pittsburgh Penguins, Crosby has
ed his team to three Stanley Cup championships (2009, 2016, and 2017), cementing his place among the all-time greats.
Connor McDavid: The Next One​
Connor McDavid entered the NHL in 2015 with sky-high expectations and has more than lived up to the hype. Known for his blazing speed, exceptional skill, and unparalleled vision on the ice, McDavid has quickly become one of the most dominant players in the league. Though his career is still young, his growing list of accomplishments already speaks for itself:
Scoring Titles: McDavid has won the Art Ross Trophy three times (2017, 2018, and 2021), showcasing his incredible offensive talent.
MVP Awards: McDavid has captured the Hart Memorial Trophy twice (2017 and 2021) and is widely regarded as the league's most exciting player to watch.
Record-Setting Pace: McDavid became the ninth player in NHL history to record 500 points in fewer than 400 games, joining an elite group that includes Gretzky, Lemieux, and Crosby.
Why They Are Considered the Best
The legacies of Gretzky, Lemieux, Crosby, and McDavid extend far beyond their impressive statistics and awards. Their impact on the game of hockey is immeasurable, as they have each left a lasting mark on the sport and inspired countless players and fans.
Each player brought a unique set of skills and abilities to the ice, revolutionizing the way the game was played and setting new standards for excellence. Gretzky's vision and playmaking ability, Lemieux's size and scoring touch, Crosby's all-around skill and leadership, and McDavid's speed and creativity have all left indelible marks on the NHL.
Their playoff performances and championship victories further cement their status as the best to ever play the game. Gretzky's four championships and seemingly untouchable records, Lemieux's back-to-back titles and remarkable perseverance, Crosby's three championships and consistent excellence, and McDavid's potential for greatness all contribute to their legendary status.
Connor McDavid, Wayne Gretzky, Mario Lemieux, and Sidney Crosby represent the pinnacle of hockey excellence. Their remarkable achievements, groundbreaking skill, and undeniable impact on the sport have earned them a place among the greatest players in NHL history.
As the debate over who is the best continues, it is essential to appreciate and celebrate the unique qualities and accomplishments of each player. Their contributions to the game have shaped its evolution and will continue to inspire future generations of hockey players and fans for years to come.
The Broader Impact on the Sport​
Beyond their individual accomplishments, these four players have had a profound impact on the sport of hockey as a whole. They have helped to popularize the game, both in their respective home countries and internationally, and their styles of play have influenced countless young players who aspire to follow in their footsteps.
Gretzky's incredible success in the 1980s and early 1990s helped to propel the NHL into the mainstream and expand the league's footprint across North America. Similarly, Lemieux's awe-inspiring play during the same period helped to solidify the NHL's status as a premier sports league.
Crosby's emergence in the mid-2000s came at a critical time for the NHL, as the league was recovering from a lockout that had threatened its very existence. Crosby's captivating performances and dedication to the sport have made him a fan favorite and a powerful ambassador for the game. McDavid, the latest phenom, has continued to electrify audiences with his dazzling skill and speed, drawing attention from fans and media alike and contributing to the NHL's continued growth and popularity.
In addition to their on-ice impact, Gretzky, Lemieux, Crosby, and McDavid have all been heavily involved in philanthropic and charitable endeavors, using their platforms to make a difference in their communities and beyond. Their commitment to giving back has further endeared them to fans and solidified their status as not just great athletes, but great role models as well.
The Future of Hockey Greatness​
As the careers of these four legendary players unfold, the debate over who is the best will undoubtedly continue. However, it is crucial to recognize that each player's unique blend of talent, skill, and impact on the game has contributed to the rich tapestry of hockey history.
The future of hockey greatness will likely see new stars emerge and records fall, but the legacies of Connor McDavid, Wayne Gretzky, Mario Lemieux, and Sidney Crosby will remain firmly entrenched in the annals of NHL lore. Their extraordinary accomplishments, passion for the game, and unwavering commitment to excellence have set the standard for what it means to be the best in the sport of hockey.