Jake Paul Changes Course: A Return to Facing Retired Fighters After Loss to Tommy Fury
Posted: April 14, 2023, 3:43 am
by bionic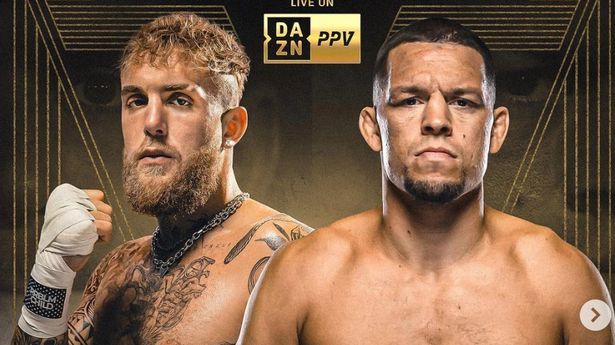 Following his recent loss to Tommy Fury, internet personality-turned-boxer Jake Paul has announced a change in his fighting strategy. Instead of continuing to face active professional boxers, Paul has chosen to return to fighting retired athletes, with former UFC fighter Nate Diaz slated as his next opponent. This decision has sparked mixed reactions in the boxing and combat sports communities, prompting debates about Paul's motives and intentions in the sport.


A Challenging Fight with Tommy Fury​
Jake Paul's bout against Tommy Fury, the half-brother of heavyweight champion Tyson Fury, proved to be a challenging endeavor for the YouTuber. Despite his previous victories against retired athletes and a former professional basketball player, Paul faced a considerable step up in competition with Fury, who boasted an undefeated professional record.
The fight exposed some of Paul's limitations as a boxer, ultimately resulting in his first loss in the ring. This defeat seemingly served as a wake-up call for Paul, prompting a shift in his approach to future opponents.
A Return to Retired Fighters: Nate Diaz​
In the aftermath of his loss, Jake Paul has decided to return to fighting retired athletes, announcing his intention to face former UFC fighter Nate Diaz. Diaz, known for his gritty performances and fan-favorite status in the UFC, has been retired from professional competition since 2021.
This decision has raised eyebrows within the boxing and combat sports communities, with some critics suggesting that Paul is seeking an easier path to maintain his popularity and drawing power. Meanwhile, others argue that the choice to face Diaz offers an exciting cross-sport spectacle that will draw in fans from both the boxing and MMA worlds.
The Implications for Jake Paul's Career​
Jake Paul's decision to fight Nate Diaz has a number of implications for his career in combat sports. By choosing to face retired fighters rather than active professionals, Paul may be perceived as avoiding legitimate competition, potentially damaging his credibility as a boxer.
However, facing Diaz, a well-known name in the combat sports world, could also provide Paul with an opportunity to prove his worth against a seasoned veteran with a strong fan base. A victory against Diaz could help Paul reestablish his reputation and silence some of his critics.
The Impact on Combat Sports​
The ongoing saga of Jake Paul's boxing career continues to have a significant impact on the world of combat sports. His decision to face retired fighters like Nate Diaz highlights the growing influence of social media personalities on traditional sports, as well as the increasing crossover between boxing and MMA.
While some argue that Paul's foray into boxing is a publicity stunt that detracts from the sport's integrity, others contend that his involvement has introduced new fans to boxing and generated interest in the sport.
Jake Paul's recent loss to Tommy Fury has led him to reassess his strategy in the boxing world, culminating in his decision to return to fighting retired athletes like Nate Diaz. While this choice has sparked debate among boxing and combat sports enthusiasts, the spectacle of Paul facing off against Diaz is sure to generate considerable interest and attention. As Paul's unconventional boxing career continues to unfold, the impact of his involvement on the sport remains a hot topic of discussion.
Paul's Decision and the Future of Celebrity Boxing​
Jake Paul's choice to face Nate Diaz and return to fighting retired athletes underscores the growing trend of celebrity boxing matches. These high-profile events have become increasingly popular in recent years, fueled by the participation of social media influencers and retired athletes seeking one last moment in the spotlight.
While some critics argue that these events undermine the sport's competitive integrity, others contend that the increased attention and revenue generated by these celebrity bouts can benefit boxing as a whole. As the line between entertainment and traditional sports continues to blur, the future of celebrity boxing and its impact on the sport remains uncertain.
Training and Preparations for the Fight​
In anticipation of his bout against Nate Diaz, Jake Paul has reportedly intensified his training regimen and preparations. With the knowledge that Diaz is a seasoned fighter with a wealth of experience, Paul understands the need to be in peak physical and mental condition for the match.
Similarly, Nate Diaz has returned to the gym to prepare for his foray into the boxing ring. Despite his retirement from professional MMA, Diaz has maintained his physical fitness and combat skills, ensuring that he remains a formidable opponent for Paul.
The Anticipation Builds: A High-Stakes Showdown​
As the date of the Jake Paul vs. Nate Diaz bout approaches, anticipation and excitement continue to build among fans of boxing and MMA alike. The high-stakes showdown between the controversial internet personality and the beloved former UFC fighter promises to be a spectacle that will capture the attention of the sports world.
For Jake Paul, the match against Nate Diaz offers an opportunity to redeem himself following his loss to Tommy Fury and demonstrate his resilience as a fighter. For Diaz, the bout provides a chance to showcase his skills in a new arena and solidify his legacy as a combat sports legend.
Jake Paul's decision to face Nate Diaz in the wake of his defeat against Tommy Fury has stirred up debates and discussions within the boxing and combat sports communities. As the line between traditional sports and entertainment continues to blur, the future of celebrity boxing and its impact on the sport remains a contentious topic. With anticipation mounting for the high-stakes showdown between Paul and Diaz, fans eagerly await the outcome of this intriguing cross-sport matchup.