The Best Luka Doncic Rookie Investment's
Posted: July 13, 2022, 5:42 am
by bionic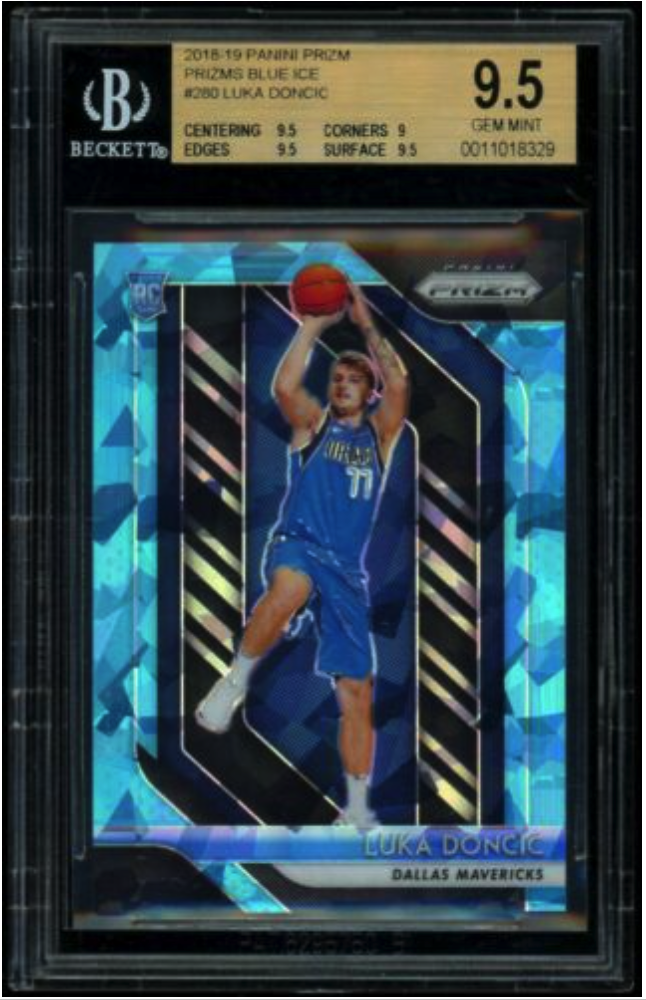 When Luka Doncic first started playing in the league, his rookie cards sky rocketed in value and quickly earned a full fan base of sole Luka Doncic collectors, and a Rookie of the Year award. We still don't know how the rest of his career will play out, but he has surely earned his spot as one of the best scorers the league has ever seen. His last play-off run from this previous NBA season was cut short by Stephen Curry's Golden State Warriors, so its up to the Dallas Mavericks to put some extra winning pieces around him, but its without doubt he will be a true force within the league creating problems for every team he squares up against. Luka has idolized Lebron James, and his play style comes quite similar to his. He is also frequently compared to Larry Bird thankful for his ability to help elevate everyone else's game playing around him.


Most Wanted Luka Doncic Rookie Cards​
So what is the best Luka Doncic Rookie Card to own? Well that's a hard question to answer as the prices between the different sets vary so highly and what your average joe can afford. While prices have dropped a bit, Luka is not to blame, although the failed playoff run may have contributed to it slightly, the market for sports cards in general has taken a bit of a tank due to the economy. Here is a wide variety of Luka Doncic rookie cards, and some recent sales numbers which should help you decide on what card would best fit your budget. He also has some pre NBA, EuroLeague cards he had from his playing days with Real Madrid, which we have left off the list, but may write a future article on the subject.
2018-19 National Treasures Luka Doncic #127 Horizontal Bronze RPA /25 ( BGS 8.5: $27,877 )
2018-19 Prizm Luka Doncic #280 Base ( PSA 10: $365, PSA 9: $150, BGS 9.5: $226.40 )
2018-19 Prizm Luka Doncic #280 Red White & Blue ( PSA 9: $315 )
2018-19 Prizm Luka Doncic #280 Red White & Blue ( BGS 9.5: $749.99 )
2018-19 Prizm Luka Doncic #280 Silver Prizm ( PSA 10: $2102.00 )
2018-19 Prizm Luka Doncic #280 Green Prizm ( Raw: $278.00 )
2018-19 Prizm Luka Doncic #280 Blue Prizm /199 ( PSA 9: $15,658.00 )
2018-19 Prizm Luka Doncic #280 Blue Ice Prizm /99 ( BGS 9.5: $26,501.00 )
2018-19 Prizm Luka Doncic #280 Choice Tiger Stripe Prizm /99 ( PSA 10: $23,100.00 )
2018-19 Prizm Luka Doncic #280 Choice Orange Prizm /49 ( PSA 9: $18,800.00 )
2018-19 Prizm Luka Doncic Blue Fast Break Prizm Auto ( PSA 10: $4650.00 )
2018-19 Crown Royale Kaboom #23 ( PSA 10: $25,200.00 )
2018-19 Select Concourse Luka Doncic #25 ( PSA 10: $163.50 )
2018-19 Donruss Luka Doncic #177 Rated Rookie ( Raw $50.99 )
2018-19 Donruss Optic Luka Doncic #177 Rated Rookie ( PSA 9: $70.75 )
2018-19 Donruss Optic Luka Doncic #177 Rated Rookie Optic Shock ( Raw: $85.00 )
2018-19 Donruss Optic Luka Doncic #177 Rated Rookie Blue Velocity ( PSA 9: $300.00 )
2018-19 NBA Hoops Luka Doncic #268 ( PSA 8: $32.00 )
2018-19 NBA Hoops Luka Doncic #268 Purple ( SGC 10: $293.00 )
2018-19 Panini Chronicles Luka Doncic Marquee #255 ( PSA 9: $41.00 )
2018-19 Panini Chronicles Luka Doncic Luminance #166 ( PSA 9: $41.00 )
2018-19 Panini Chronicles Luka Doncic Studio #166 ( RAW: $44.87 )
2018-19 Panini Revolution Luka Doncic Chinese New Year #128 ( PSA 10: $182.50 )
2018-19 Panini Revolution Luka Doncic Astro #128 ( PSA 9: $86.55 )