The Wrestling Ring of Trading Card Battles: Panini vs. WWE
Posted: September 26, 2023, 5:17 pm
by bionic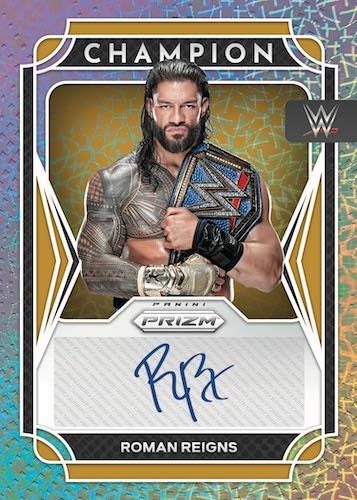 In the complex world of trading card legalities, Panini America finds itself not just navigating one storm but contending with a maelstrom of legal challenges. While still in the throes of its high-stakes showdown with trading card behemoth Fanatics, Panini has been tossed into a new legal fray, this time with the entertainment titan, World Wrestling Entertainment (WWE).

For those not following the corporate wrestling matches of late, here's the lowdown. WWE, fresh from its merger with UFC, has come forward with a chokehold move against Panini. A fortnight ago, the wrestling conglomerate informed Panini of its decision to terminate its licensing agreement with the card manufacturer – a stark two years prior to its intended completion. The charge? Breach of contract. According to industry insider, Darren Rovell from the Action Network, despite being shown the exit door, Panini has allegedly continued its production line of wrestling cards, thereby violating the injunction.

Now, here's the twist in the tale. Fanatics, who's already in a legal tangle with Panini, is reportedly poised to assume the WWE licensing rights immediately. This isn't the first time a professional sports entity has snipped ties with Panini in the recent past. The NFL Players Association did the same dance, severing its contract and paving the way for Fanatics to jump into the NFL trading card ring three years ahead of schedule. Not one to be sidelined, Panini counter-attacked with a lawsuit against NFLPA to thwart this termination, while persistently rolling out NFL trading cards.

Fast forward to the current main event: WWE vs. Panini. Echoing their earlier strategy, Panini has launched yet another federal lawsuit, aiming to fend off WWE's abrupt contract termination. According to reports from Sports Collectors Daily, Panini's defense against WWE centers on the rationale that the termination was due to their alleged failure in producing "physical trading card games" and "digital trading cards". In a financial twist to the story, WWE's termination comes with a hefty price tag – they're billing Panini for the remaining minimum royalty payments, which tallies up to a cool $5.6 million.

However, Panini, like a wrestler backed into a corner, is fighting back with full force. They maintain their innocence regarding any breach of their four-year pact, which kicked off in 2022 and was slated to run its course until 2025. They are challenging the validity of WWE's claims, emphasizing that the wrestling corporation, at no juncture, pinpointed any lapses in Panini's deliverables. No complaints were lodged about product launches, activities, or any perceived shortcomings from Panini's end in upholding their end of the deal.

The focal point of Panini's lawsuit is twofold. First, they argue that they've been prolific in producing WWE digital offerings. Second, they contend that the requisite "trading card games" clause was aptly met through events like "box wars" and "pack wars" during trading card conventions.

To add weight to their claims, Panini sheds light on their financial dealings with WWE. They stress that the royalties paid to WWE have surpassed the benchmarks defined in their contract.

In the trading card universe, where passion meets business, this Panini vs. WWE episode underlines the delicate balance between contractual agreements and industry expectations. As this battle unfolds, industry stakeholders, fans, and collectors alike will keenly watch, waiting to see which company emerges as the reigning champion in this corporate wrestling bout.